Good Villains
with SocietySociety, The Brothers Moore, Lilac Kings
The Vanguard
All Ages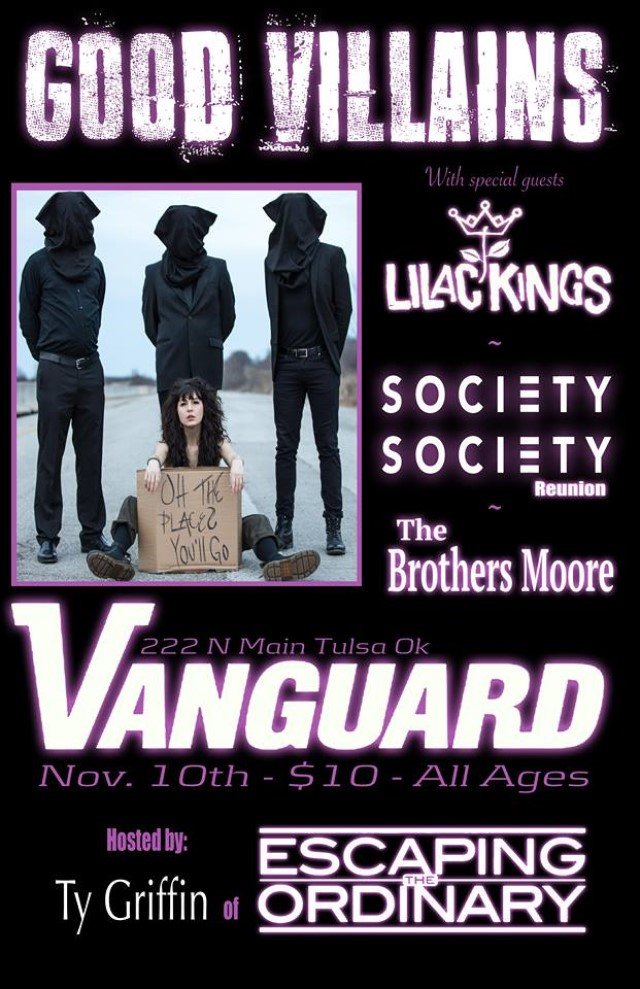 Artists
Good Villains

Good Villains story-teller theme is blended with expert musicianship and an eerie sense of childishness. A Leading contender in the "doom-pop" genre, Good Villains are imaginative, expressive, and yet so full of the unknown. There are no limits for this musical power-house.

STEVEN ( THE TRAIN ) - DRUMS
CALEIGH ( THE GIRL ) - VOCALS
TED ( THE GIGGLER ) - GUITAR
TODD ( THE DOCTOR ) - BASS
SocietySociety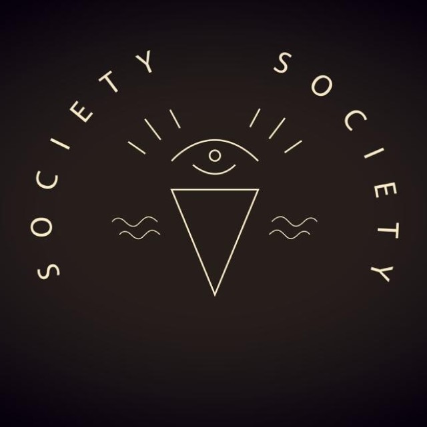 When people hear about a new band, the first thing they ask is normally "what type of music do they play?" That's understandable, but sometimes a band can't be described in just a couple simple words.
For SocietySociety, the easiest and probably most accurate description would likely be "full band hip hop," but that still leaves something out. A punk rock attitude and delivery takes the music to a different place, as does the band's willingness to incorporate influences from all directions.
As guitarist William Vickers shared "I've noticed that people take what they want to out of our music. They tend to incorporate their own influences into it when describing our band, but at the same time, we can hear it in both our music and where they're coming from.
As such, fans have associated SocietySociety with bands as disparate as 311, Modest Mouse, Gym Class Heroes, Jane's Addiction, Rage Against the Machine, Beastie Boys, XX The Transplants and Thievery Corp. Surely, a little bit of each can be heard in the band, but its reach goes far beyond that. With influences ranging from punk rock with guitarist Joe "MySide" Dufresne, roots in the hardcore and metal scene for guitarist William Vickers and roots in R&B, Soul and Hip Hop for lead singer Devo "The Man" McFarland, the band can't help but defy description and blur the lines between genres.
Initially formed out of the dissolution of an early incarnation known as Vito Ninefingers in 2008, SocietySociety polished off the rough edges of its former self to become one of the most popular and consistent live acts in Tulsa's independent and underground rock scene before imploding in 2010.
After a two year hiatus that saw band members follow their musical calling in different directions, the group was drawn back together to recapture a rare chemistry that can't be recreated. After reconvening in 2012, the band has reemerged in 2013, this time more matured, more focused and more motivated than ever.
Known for a high energy and infectious live show, SocietySociety's "quiet" return to the live stage in January 2013 drew over 100 fans out on a Thursday night, followed by nearly 200 in February for the band's second return performance, proving the band's popularity in the live music community had not waned during its absence.
In fact, the live arena is where SocietySociety's diversity sets it apart from its peers. By marrying a rock attitude to hip hop lyricism and giving it a punk rock delivery with a singer who has just as much R&B in his soul, the band touches on all genres without painting itself into a corner.
Who else could share the stage with a hard rock band (Hell or Highwater) one week, a dance pop singer (Aaron Carter) the next, then follow up opening for a melodically focused modern rock band (House of Heroes) and win over each audience with equal authority? That's exactly what SocietySociety has done while also standing shoulder to shoulder with both punk bands and rappers and creating a sound that appeals to fans in each scene.
When capped off with an independent DIY attitude, SocietySociety is winning over venue owners as well as the fans by not only using a keen sense of social media networking, but also its old school guerilla marketing tactics. It's not uncommon to see the band hitting the record stores, postering light poles and business windows and standing outside of venues handing out show flyers and connecting with potential new fans.
With a vision for the future, SocietySociety has used its new maturity and focus to design its own marketing strategy and merchandise and record a new EP, due just in time for the band to hit the road to expand its reach on in its 2013 summer tour.
Good music knows no boundaries and its fans know no longer care about labels and genres. That suits SocietySOciety perfectly as the band processes everything it takes in and distills it down to create its own unique signature and sound. Now the band is poised to expand its geographic boundaries as the members focus on the future with no limitations in sight.
The Brothers Moore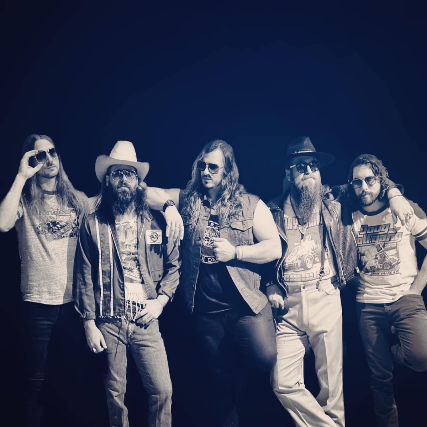 Rock and Roll Band - Tulsa, OK
Lilac Kings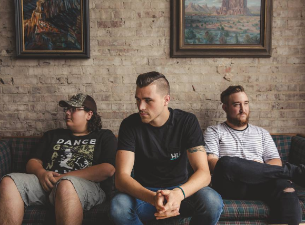 An indie rock project.
We make intense soft music.