The Vanguard and Bros. Houligan Present...
AJJ
with Tacocat, Hoarseman & The Heard
Sun
Feb, 9
8:00 pm
( Doors:

7:00 pm

)
The Vanguard
All Ages
$20 adv // $25 dos // $50 mezz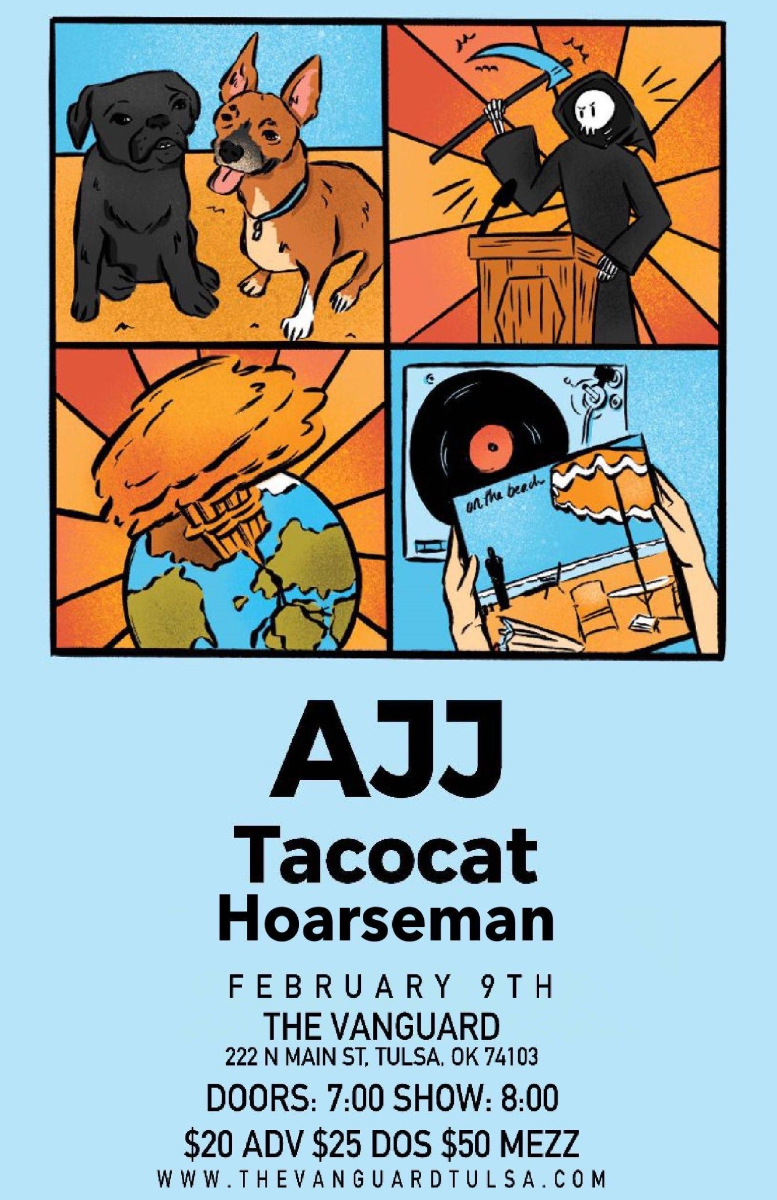 Artists
AJJ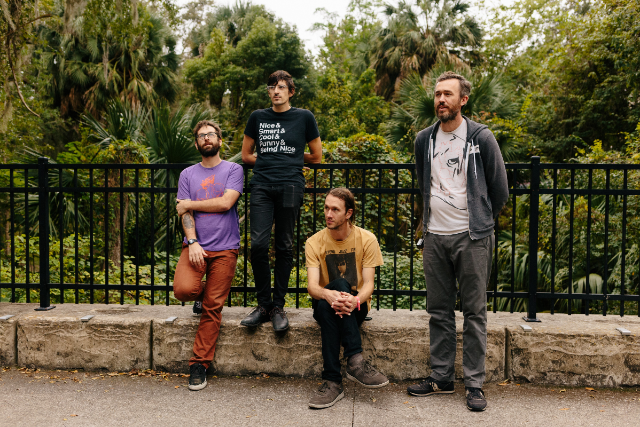 AJJ – Good Luck Everybody
AJJ frontman Sean Bonnette can summarize the band's new album, Good Luck Everybody, in a single sentence: "Sonically, it's our least punk record, and lyrically, it's our most punk record."
And indeed, Good Luck Everybody (January 17, 2020), the Arizona band's seventh album, stands out in their already diverse catalog. While still rooted in the folk-punk sound AJJ has become known for, the album is unafraid to delve into new territories that test the limits of what the band is capable of.
"I think it explores some of the weirder sides of AJJ, the more experimental leanings that we've had in the past," says bassist Ben Gallaty. Good Luck Everybody draws from a wealth of sonic inspirations, from Laurel Canyon folk-rock of the 60s and 70s to avant garde artists like Suicide, as well as some orchestral pop. There is even a piano ballad, the tragic "No Justice, No Peace, No Hope."
Lyrically, Good Luck Everybody is a change of pace from the idiosyncratic songwriting style Bonnette has honed over more than 15 years fronting AJJ. It still features his wonderfully weird turns of phrase and oddball word pairings, but this time, his thematic lens is more directly focused on the inescapable atrocities of the world around him. Longtime fans will recognize the album's social commentary as a return to their 2011 release, Knife Man, but this time it's fueled by a more radical urgency.
"I usually try for a timeless effect in songwriting, so that you can hear a song and generally not think about the context under which it was written," says Bonnette. "But for this one, I was trying to write, and all the bad political shit just kept invading my brain and preventing me from writing that way. So I decided to fully embrace it and exorcise that demon."
Much like Woody Guthrie and Phil Ochs pulled their songs straight from newspaper headlines, Good Luck Everybody feels like a long scroll through social media feeds on a particularly volatile day.
The song "Mega Guillotine 2020," for example, came directly from Twitter. It was influenced by Twitter funnyperson @leyawn's popular tweet depicting a mockup of a French Revolution-style guillotine with one blade and enough headrests for 15 Congress members. Bonnette says the idea inspired him to press record and start playing, and when he did, the entire song came out of his brain fully formed. The final version also features backing vocals by Kimya Dawson.
"There's something that comes along with scrolling through your phone on Twitter or Instagram and seeing a puppy, and then a joke from a comedian, and then a young black person being shot by police, and then another puppy, and then your friends announcing a tour, and then children in cages," says Bonnette. "There's something in that that fucks your brain up. I don't know if it's made me more of a passionate arguer or just made me confused and numb."
On "Normalization Blues," Bonnette laments what this never ending deluge of atrocities has done to our humanity: "I can feel my brain a'changin', acclimating to the madness / I can feel my outrage shift into a dull, despondent sadness / I can feel a crust growing over my eyes like a falcon hood / I've got the normalization blues, this isn't normal, this isn't good."
Later, on "Psychic Warfare," Bonnette takes out some aggression on the man at the root of it all, albeit through his trademark polite aggression: "For all the pussies you grab and the children you lock up in prison, for all the rights you roll back and your constant stream of racism / For all the poison you drip in my ear, for all your ugly American fear, I wrote you this beautiful song called 'Psychic Warfare.'"
After years of partnering with Asian Man Records and SideOneDummy Records, AJJ is releasing Good Luck Everybody on their own, via their new label AJJ unlimited LTD, with Specialist Subject Records handling the European release. Bonnette and Gallaty also produced the record themselves and, in addition to their usual cast of collaborators (Preston Bryant, Dylan Cook, Mark Glick, Owen Evans), it features guest appearances from Thor Harris, Jeff Rosenstock, and Laura Stevenson.
"One thing that makes me rather giddy is that without a label or a producer, our listeners will have no one to blame besides us for the way our sound has changed," laughs Bonnette.
For all of its dark leanings and its pessimistic reflections on modern culture, AJJ hopes that fans will ultimately come out of the album in a hopeful place. By its final track, "A Big Day for Grimley," it feels like AJJ is holding the listener's hand, staring at the looming apocalypse ahead, and whispering a message into their ear: Good luck, everybody.
Tacocat
When Seattle band Tacocat—vocalist Emily Nokes, bassist Bree McKenna, guitarist Eric Randall, and drummer Lelah Maupin—first started in 2007, the world they were responding to was vastly different from the current Seattle scene of diverse voices they've helped foster. It was a world of house shows, booking DIY tours on MySpace, and writing funny, deliriously catchy feminist pop-punk songs when feminism was the quickest way to alienate yourself from the then-en vogue garage-rock bros. Their lyrical honesty, humor, and hit-making sensibilities have built the band a fiercely devoted fanbase over the years, one that has followed them from basements to dive bars to sold-out shows at the Showbox. Every step along the way has been a seamless progression—from silly songs about Tonya Harding and psychic cats to calling out catcallers and poking fun at entitled weekend-warrior tech jerks on their last two records on Hardly Art, 2014's NVM and 2016's Lost Time.
This Mess is a Place, Tacocat's fourth full-length and first on Sub Pop, finds the band waking up the morning after the 2016 election and figuring out how to respond to a new reality where evil isn't hiding under the surface at all—it's front and center, with new tragedies and civil rights assaults filling up the scroll of the newsfeed every day. "What a time to be barely alive," laments "Crystal Ball," a gem that examines the more intimate side of responding emotionally to the news cycle. How do you keep fighting when all you want to do is stay in bed all day? "Stupid computer stupor/Oh my kingdom for some better ads," Nokes sings, throwing in some classic Tacocat snark, "Truth spread so thin/It stops existing.".
Despite current realities being depressing enough to make anyone want to crawl under the covers and sleep for a thousand years, Tacocat are doing what they've always done so well: mingling brightness, energy, and hope with political critique. This Mess is a Place is charged with a hopefulness that stands in stark contrast to music that celebrates apathy, despair, and numbness. Tacocat feels it all and cares, a lot, whether they're singing odes to the magical connections we feel with our pets ("Little Friend"), imagining what a better earth might look like ("New World"), or trying to find humor in a wholly unfunny world ("The Joke of Life").
Throughout the album, Tacocat questions power structures and the way we interact with them, recalling the feminist sci-fi of Ursula K. Le Guin in pop-music form. "Rose-Colored Sky" examines the privilege of people who have been able to skate through life without ever experiencing systemic disadvantage: "For all the years spent/Hot lava shaping me/For all the arguments/I wonder who else would I be?" Nokes sings. "If I wasn't on the battleground/I bet I could've gone to space by now." "Hologram" reminds us to step outside ourselves and try to see beyond imaginary structures that trap us: "Just close your eyes and think about the Milky Way/Just remember if you can, power is a hologram."
The record is full of beautiful details, finding plastic beaded curtains catching light amidst feelings of despair. This Mess is A Place explores politics with more nuance than the topical songs of Tacocat's past, inviting listeners in for more complicated exchanges and leaving space for introspection. "Grains of Salt" finds the band at the best they've ever sounded: Maupin's spirited drums, McKenna's bouncy walking bass, Randall's catchy guitar and Nokes' soaring melody combine to create a bonafide roller-rink hit that reminds us that it just takes some time, we're in the middle of the ride, and to live for what matters to you. It's a delightfully cathartic moment and the cornerstone of the record when they exclaim: "Don't forget to remember who the fuck you are!"
Producer Erik Blood (who also produced Lost Time) brings the band into their full pop potential but still preserves what makes Tacocat so special: they're four friends who met as young punks and have grown together into a truly collaborative band. Says Nokes: "We can examine some hard stuff, make fun of some evil stuff, feel some soft feelings, feel some rage feelings, feel some bitter-ass feelings, sift through memories, feel wavy-existential, and still go get a banana daiquiri at the end."
-–Robin Edwards.
Hoarseman & The Heard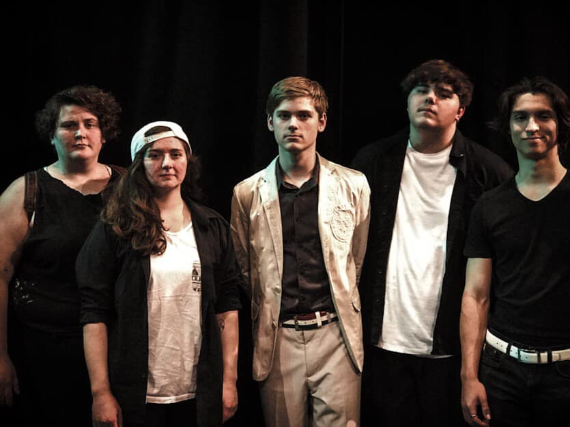 //Tulsa Alt-Art Rock Band//