The Vanguard and Bros Houligan Present...
Son Volt
with Jesse Farrar of Old Salt Union
Sat
Jan, 15
8:00 pm
( Doors:

7:00 pm

)
The Vanguard
All Ages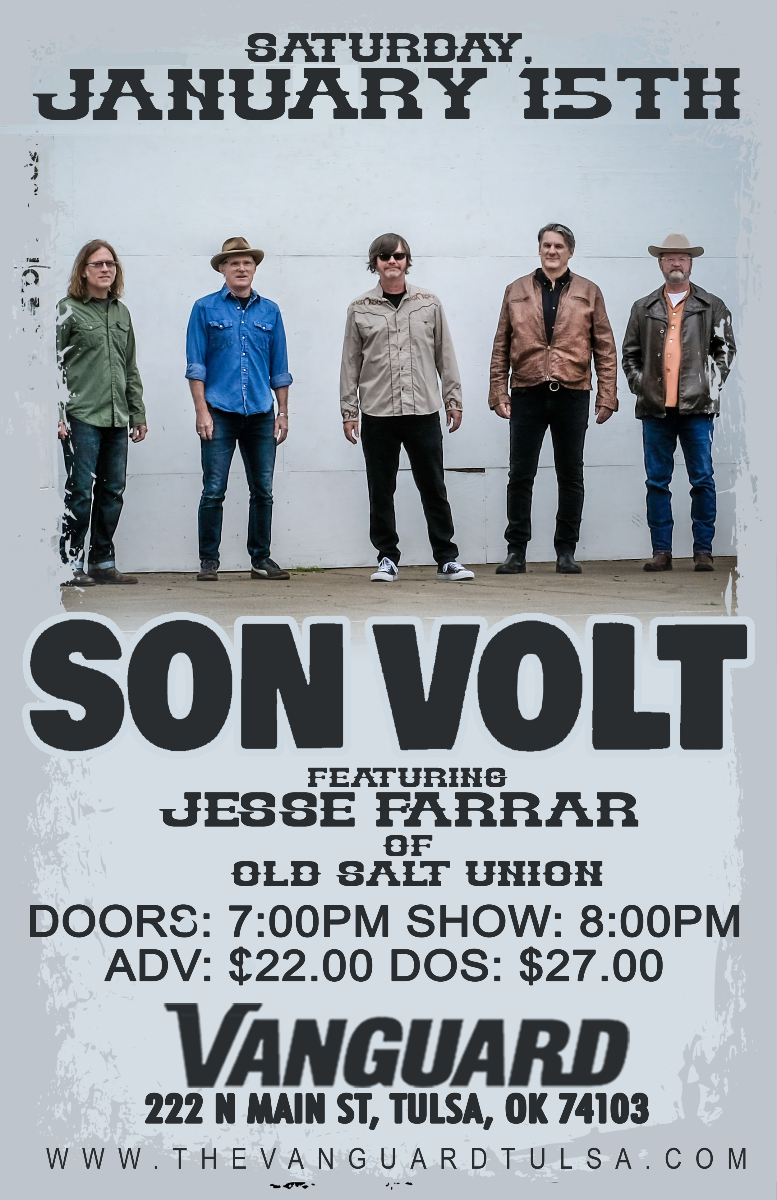 Artists
Son Volt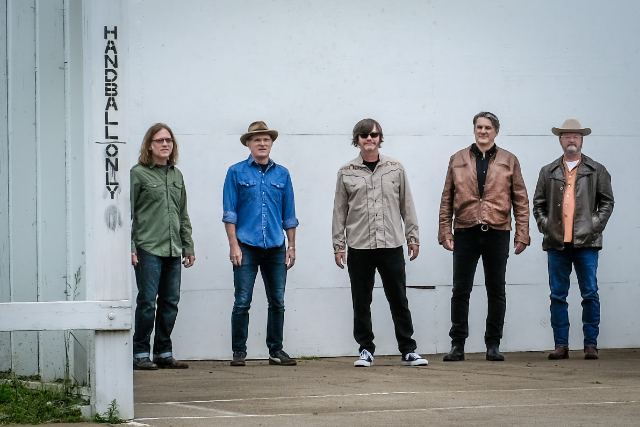 2020 was not quite what Jay Farrar was expecting for the 25th anniversary of Son Volt, the band he started in 1995 after leaving the seminal group Uncle Tupelo, whose No Depression album helped define the alt-country and Americana genre. The group had justfinished anOutlaw Country Cruise when the pandemic hit and sent them into their homes on lockdown.

Instead of a triumphant tour marking the illustrious landmark, Farrar was forced indoors by the pandemic, and his "Reverie" during that time helped define Electro Melodier, Son Volt's10th studio album–and third for influential Nashville indie Thirty Tigers. The title, taken from the names of two vintage amplifiers from the late '40s and early '50s, also describes the disc's unique blend of folk, country, blues, soul and rock–an electric troubadour with melodies that hit and stick. Social protest songs like "Living in the U.S.A." and "The Globe," the former about the promises of this nation gone wrong, the latter referencing the street protests accompanying the Black Lives Matter movement, exist side by side with odes to long-term relationships (specifically his 25-year marriage) in "Diamonds and Cigarettes" and "LuckyOnes."

Once again accompanied by the current Son Volt line up–keyboardist/steel guitarist Mark Spencer, bassist Andrew Duplantis, guitarist Chris Frame and drummer Mark Patterson–Farrar takes a slight turn from 2019's politically pointed Union to a series of songs that asks questions rather than demanding answers–think of "Living in the U.S.A." as Farrar's version of Bruce Springsteen's "Born in the U.S.A.," Neil Young's "Rockin' in the Free World" or Patti Smith's "People Have the Power," an anthem to unite the populace.

"I had more time to devote to and concentrate on the writing," says Farrar about his enforced quarantine. "We were fortunate in that we had just released Union and toured the country, so we were off cycle. It was still a rough year, but as a songwriter, I was able to make the most of it."

One listen to Electro Melodier, which opens with "Reverie," describing Farrar's contemplative state gazing out his window, enlivened with Mark Spencer's "Wichita Lineman" guitar riffs and the lush Big Star melodies, and you wonder why no other rock 'n' roll bands or singer/songwriters are making albums like this about what we're all going through.

"I wanted to concentrate on the melodies which got me into music in the first place," says Farrar. "I wanted politics to take a back seat this time, but it always seems to find a way back in there."

Listen to the Moog line from The Who's "Won't Get Fooled Again" channeled in "The Globe,"or the Led Zeppelin homage in "Someday Is Now," the nod to gut-bucket Mississippi delta blues in the Lightnin' Hopkins low-tuned guitar stylings of "War on Misery" or Spencer's haunting slide on the funereal dirge of "The Levee On Down," which takes Andrew Jackson to task for everything from the "Trail of Tears" massacre of the Cherokees to his face on the $20 bill instead of Harriet Tubman. The environmentally conscious "Arkey Blue" nods to a honky-tonk in Bandera, TX, Arkey Blue's Silver Dollar, where Hank Williams, Sr. allegedly carved his name into one of the wood tables, and even quotes Pope Francis on "turbulent rains never before seen."

"I'm just asking the same question, how can so much go wrong in a country that is held up as an example to the world of something righteous," explains Farrar about songs like "Living in the U.S.A.," in which you can hear doom saying prophecies like Barry McGuire's "Eve of Destruction" set to the guitar riffs of Lou Reed's "Sweet Jane."

Still based in St. Louis ("It kinda makes sense as a central location for touring because all the interstates connect through here"), Farrar was born in Belleville, IL, where he formed UncleTupelo with his highschool classmate Jeff Tweedy. "We had similar musical interests and took it from there," says Jay modestly about the ground breaking group.

Farrar is grateful to his wife of 25 years, a sentiment which he expresses lovingly on "Diamonds and Cigarettes"–featuring vocals by country singer Laura Cantrell, along with songs like the soulful "Lucky Ones" and "Sweet Refrain," a song that captures the spirit of Bentonia, Mississippi, home of Skip James along with name checks for local legends Jimmy "Duck" Holmes and the Bluefront Cafe. "These are the Times" was recorded entirely remotely by Zoom, signaling one of the new methods of making music ushered in by Covid.

With tour dates scheduled before the end of 2021, Son Volt is ready to return to what they know best after a welcome period of introspection.

"It's a good time to take stock of what's lost and what's gained," said Farrar. "At this point, we're not even sure what we're going to get back."

The songs of Electro Melodier help remind us to be thankful of what we still have–new music from Jay Farrar and Son Volt.

"Daylight brings the clues to the world to life/Make or break gotta do what it takes to survive." "Sweet Refrain"
Jesse Farrar of Old Salt Union
A great band is more than the proverbial sum of its parts, and in the pursuit of becoming something that can cut through the clutter of YouTube stars and contest show runner-ups, a great roots music band must become a way of life. Less likely to rely on production or image, they've got to connect with their audience only through the craftsmanship of their songs, the energy they channel on the stage and the story that brings them together.
Old Salt Union is a string band founded by a horticulturist, cultivated by classically trained musicians, and fueled by a vocalist/bass player who is also a hip-hop producer with a fondness for the Four Freshmen. It is this collision of styles and musical vocabularies that informs their fresh approach to bluegrass and gives them an electric live performance vibe that seems to pull more from Vaudeville than the front porch.
In 2015 they won the FreshGrass Band contest and found the perfect collaborator in Compass Records co-founder and GRAMMY winning banjoist and composer, Alison Brown, whose attention to detail and high standards pushed the group to develop their influences from beyond a vocabulary to pull from during improvisation and into the foundation of something truly compelling in the roots music landscape.
Violinist John Brighton mentions some names familiar to the Compass roster as key influences, musicians like Darol Anger, Edgar Meyer, Mike Marshall and Mark O'Connor, all of whom have collaborated with Brown in the past. Primary vocalist and bassist, Jesse Farrar (for the indie rock heads - yes, he's related – Son Volt front man Jay Farrar is Jesse's uncle) brings an alternative rock spirit as well as his unique formative experiences as a hip hop producer and bass player for a national tour of The Four Freshmen. The band's self-titled Compass debut combines these instrumental proclivities with pop melodies and harmonies into a coherent piece of work that carves out a road-less-travelled for the band in the now crowded roots music genre.
The album kicks off with a nod to alternative rock sensibilities – a deconstructed symphonic drone creeps in slowly, while Farrar emerges through the atmospherics to deliver the first lines "Stranded on a lonely road/Trying to find my way back home/A dollar and a broken heart/Didn't seem to get me very far". His words are followed by a dramatic moment of silence (a trick often used in hip hop) that quickly launches into "Where I Stand", a hard-driving bluegrass track that gets moving so powerfully you almost don't notice the layer of angelic harmonies flowing consistently underneath.
Mandolinist Justin Wallace takes over lead vocal duties for the second track "Feel My Love" as well as a version of Paul Simon's "You Can Call Me Al". He pops up again on his composition "On My Way" and his no-frills, approachable voice is the perfect complement to Farrar's more gymnastic style. The two work together beautifully on the Wallace-penned, "Hard Line". Wallace is further showcased on the disc's lone instrumental "Flatt Baroque", composed by Brighton, who joins him in some twin mandolin, and it's this more contemplative moment on the album where the listener hears him reaching to be in perfect sync with his bandmate, that best reflects Wallace's role in the evolution story of the band. If Farrar has emerged as the heartbeat, then Wallace is the soul.
Perhaps most surprisingly, the band was founded by banjoist Ryan Murphey, the aforementioned horticulturist who came to bluegrass music and the banjo later in life. Finding a kindred spirit in Dustin Eiskant, the band's former guitarist and Farrar's cousin, the pair started the band in 2012 and Murphey played the banjo and led the band's business through its early incarnations, including the recruitment of Farrar in 2014.
Though the band had established themselves as a growing festival act with performances at LouFest, Stagecoach Festival, Bluegrass Underground, Winter Wondergrass, Freshgrass, Wakarusa, Yonder Mountain String Band's Harvest Festival, and the 2014 Daytona 500, it was their breakout track on Spotify, "Madam Plum" that seemed to amplify awareness of the band beyond the bluegrass bubble.
Of working with the band in the studio, producer Brown says, "These post modern bluegrassers are true renegades. While they look like a bluegrass band, their musical sensibilities run much deeper and broader, borrowing as much from indie rock and jazz fusion as from Bill Monroe. And, even more exciting to me, they know no fear! They are wide open musical adventurers and we had a great time experimenting in the studio at the crossroads of these disparate influences."
The most unexpected but possibly most fascinating song on the album is a ballad entitled "Bought and Sold". Its earnest beauty is balanced with a youthful inventiveness that leaves a solemn mark on the listener who might wake up at the end of it thinking, "What just happened?".
At this point, the future of the band seems marvelously unclear. The album closes with "Here and Off My Mind" which seems like the bluegrass song that Conor Oberst never wrote featuring a lyric that ends with the promise of "a better life" though from the all-hands-on-deck jam session that breaks out in the middle (is that a kazoo?) one gets the sense that the band can't imagine a better one than they have in the beat up Winnebago they currently call home.