The Vanguard and Bros Houligan Present...
Cliffdiver
with Carpool, Ben Quad, Beachfriends
Fri
May, 27
8:00 pm
( Doors:

7:00 pm

)
The Vanguard
All Ages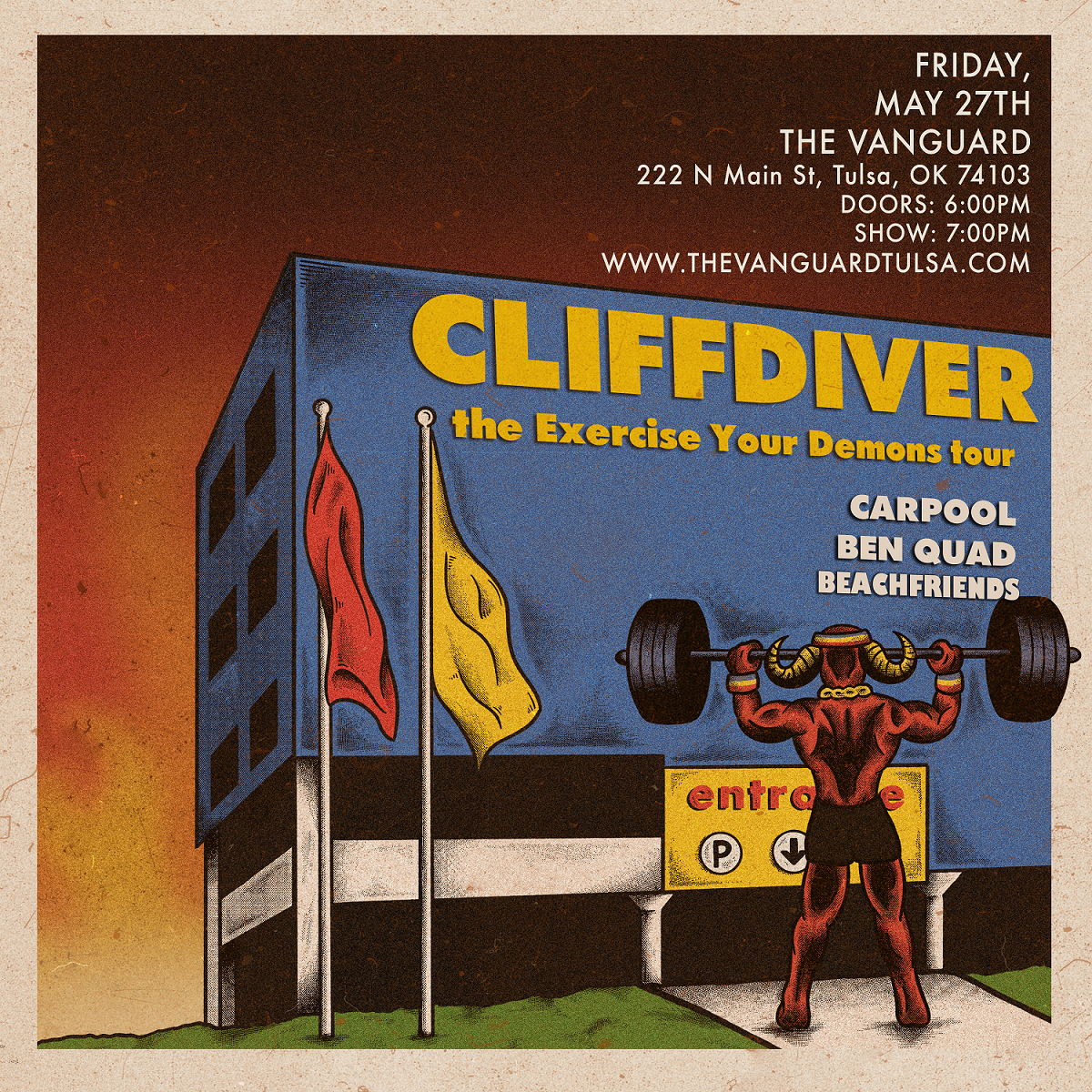 Artists
Cliffdiver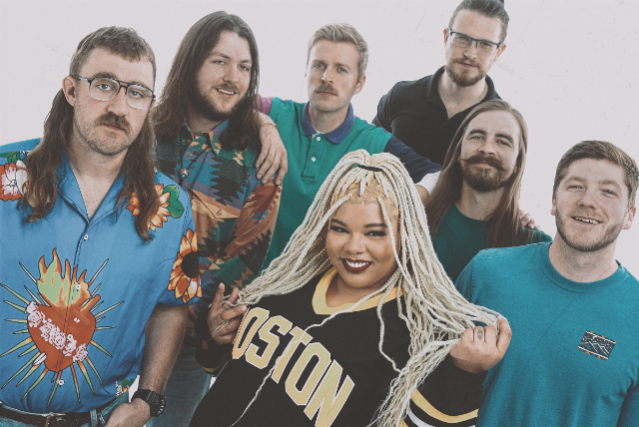 There was a brief moment when recording Exercise Your Demons that things didn't seem great for CLIFFDIVER. The Tulsa, OK seven-piece – lead vocalists Joey Duffy and Briana Wright, guitarists/vocalists Matt Ehler and Gilbert Erickson, bassist Tyler Rogers, saxophonist Dony Nickles and drummer Eliot Cooper – were having a great session with producer Seth Henderson, as they had on 2018's At Your Own Risk EP at Always Be Genius studios in Indiana. And then their lodgings fell through. But instead of worrying about where to stay and what to do, the band simply resorted to their favorite non-musical activity.
"It was a real low point," remembers Wright, "but the guys were just playing disc golf. I was sitting there stressing, like 'How can they play disc golf?!', but I realized that that's really fucking it, isn't it? That yeah, this sucks, and it's never going to be okay, but I'm going to be okay because I've decided I'm going to be okay. It's resilience – and if you own your shit, it's painful, but no-one can take that from you. That's why the record's called Exercise Your Demons, because while you may not be able to exorcise them and get them out of your life, you can train them and get them under control."
That's the attitude at the core of this album, and one embedded deeply into its nine genre-defying (but also unashamedly emo) songs. The follow-up to the band's first two EPs – 2018's Small Hours and the following year's At Your Own Risk – Exercise Your Demons picks up where those EPs left off, building off the band's homegrown success which has seen them share stages with K. Flay in Tulsa and the likes of Hot Water Music, The Wonder Years, Spanish Love Songs and more at last year's iteration of Fest, get airplay on Tulsa's esteemed radio station 104.5 The Edge and sign with SideOneDummy. But it also flings the door wide open musically, making this debut fell-length quintessential CLIFFDIVER.
"This is the first recording that really captures us," says Duffy. "It was a cool opportunity to change, reinvent and just get weird with it."
"We definitely haven't painted ourselves into a corner musically," says Wright, "but we also wanted to establish that we're an authority on emo – especially for me, from a representative standpoint."
That representation is at the heart of CLIFFDIVER's identity, matched only by the band's intentionality. Already known on the Tulsa scene as a soul singer, Wright was asked to join CLIFFDIVER permanently after featuring on 2020's single "Gas City". One of many reasons for that decision is what her joining the band signified. They realized they could plug a representational gap.
"I'd always thought I couldn't make the music I like because my voice wouldn't work," she says. "I'm also a girl, a big girl, a black girl, a mom, and someone in their 30s. But I stopped judging myself by those metrics. When we were recording "Gas City", they asked why I hadn't ever been in a band and I explained that my voice is different, and that that's intimidating for me and it might be intimidating for people to listen to. So a big part of me joining CLIFFDIVER and the rebirth of the band is off the back of that representation and being intentional about what people are taking in and what we're putting out there."
"Bri and I also aren't your prototypical people fronting a band," adds Duffy, who is 34 and a father. "We're not Machine Gun Kelly – I'm just your dad's friend."
Another major part of Exercise Your Demons is how unflinching it is when addressing mental health issues. Both Duffy and Wright have survived suicide attempts in the past, and they want this record to offer hope and strength – if not a literal lifeline – to anyone who hears it. It is, by its very existence, a testament to what happens if you don't let your demons win.
"Neither of us should be here," admits Duffy, who was diagnosed as bi-polar at 25, and who recently celebrated nine months of sobriety, "but we are here. We know what it's like to be alone with the thought that the world would be better without you and we're proof that it can get better. You won't wake up one day and not be struggling, but I went from having a gun in my mouth at 24 to being here at 34 about to put my first album out. So I get to say: 'Listen, I know how bad it sucks and it's going to suck again, but you have what it takes to keep going.' That's the whole message – that you, too, are resilient. The things that were breaking you a year ago aren't breaking you now."
That message is borne out through the narrative of these nine songs. A profound exploration of grief that takes place over a hedonistic weekend, the concept of Exercise Your Demons was initially inspired by a recurring nightmare Duffy had in which an ex-fiancée of his who had taken her life was trying to convince him to do the same. He told Ehler about it, and the pair soon wrote what turned into "Death Is A Wedding". Smack bang in the middle of the album – which was mastered by Will Yip – that song is a bleak blast of poppy post-hardcore/emo which sees Duffy's late ex resurrected through Wright's stunning and wondrous vocals. The tracks on either side of the song take you through that hedonistic weekend, and the various stages of grief, as well as every type of emo – a barrage of what the band accurately term 'new nostalgia.'
Opener "New Vegas Bomb" is a frenetic explosion of not-so-youthful exuberance filtered through noodling guitars, chugging riffs and joyous horns, before "Who Let The Hawgz Out?" soundtracks an abjectly dark night of soul with a burst of vital musical energy. Elsewhere "We Saw The Same Sunset" is a beautiful, hushed lament wrapped in existential despair that runs into "Death Is A Wedding". But then there's a shift in attitude with the uplifting "Super Saiyin Al Pacino" and, later, the introspective relief of "I Left My Heart At Lemon Lake", whose soaring melody soundtracks the lifting of the darkest darkness. It all ends with "IKEA Strikes Back", which focuses on Duffy's joy at being a father while also capturing the purpose of this album.
"Because we have this talented group of musicians around us," says Duffy, "we're able to trick people into talking about their mental health without them at first noticing what we're doing. And I get to show my son that, no matter how life kicks the shit out of you to where you think there's no hope, there is a 'but', there
is
hope and redemption, even for a burnt-out, used-up party kid like me. I'm looking forward to a future that I'm building that wouldn't be here were it not for CLIFFDIVER."
"That's our mission statement for the band," agrees Wright. "We feel that responsibility as people who have been there. So we'll sit in the mud with you and talk about it, and we hope our little bit of courage can explode to something that's bigger than us. Because it's not about us, it's about what we're talking about and the connection that we call the fabric, because it creates strength. We're just trying to make a bigger net to catch more people."
Carpool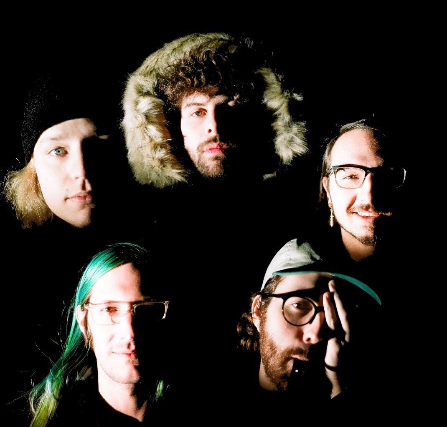 "For anyone following contemporary emo/indie, Rochester, New York's Carpool should be a name you're already familiar with. If you've somehow missed the boat, their debut LP Erotic Nightmare Summer is as good a place as any to come aboard. Following 2019's I Think Everyone Is a Cop, Carpool's latest effort is a step forward in their particularly beguiling sonic cocktail of emo and pop/rock. Melding the intricate leads and earnestness of emo with the melodic sensibilities of 90s radio rock giants like Third Eye Blind, Erotic Nightmare Summer distills the best parts of Carpool's broad influences into a potent formula that should appeal to virtually anyone with ears. Bands can't be blamed for wanting to reinvent the wheel, but Carpool understands that the wheel is the best mode of getting from point A to point B. Instead of reinvention, they opt to trim the fat and maximize the effectiveness of their chosen vehicle, delivering concise, infectious pop enriched with the best elements of the last decade of emo music. It's not broke and it doesn't need to be fixed, but Erotic Nightmare Summer makes it a bit better" - Grey Gordon
Ben Quad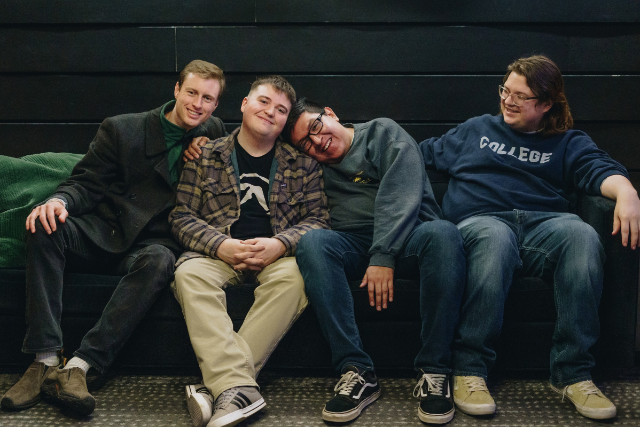 Emo and butt rock band.
Beachfriends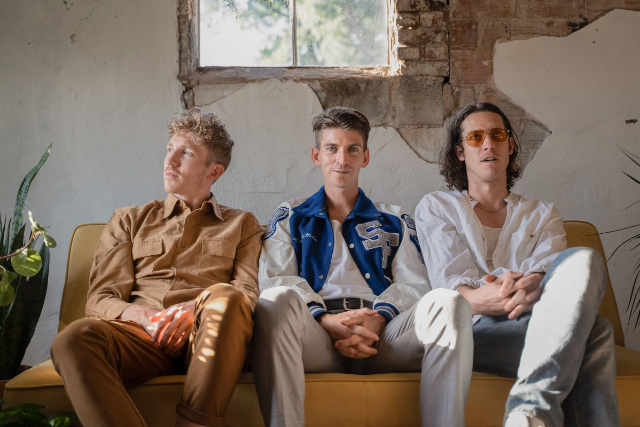 Former professional soccer player from Seattle, Brady Balley, met Tulsa brothers Will (guitar) and Charlie (drums) when soccer took him to the southern plains. Beachfriends took shape in 2018 and began putting out their warm pop sound to the world in 2020. Beachfriends includes touring members: Jacob Hunter (keys) and Jordan O'dell (bass). Beachfriends is featured on Spotify playlists: Soda, Fresh Finds: Pop, and Apple Music's "New in Alternative".