The Vanguard and Bros Houligan Present...
Destroy Rebuild Until God Shows
with Fight The Fade, Revisionist
Sat
May, 28
8:00 pm
( Doors:

7:00 pm

)
The Vanguard
All Ages
$20+ fees adv // $25+ fees dos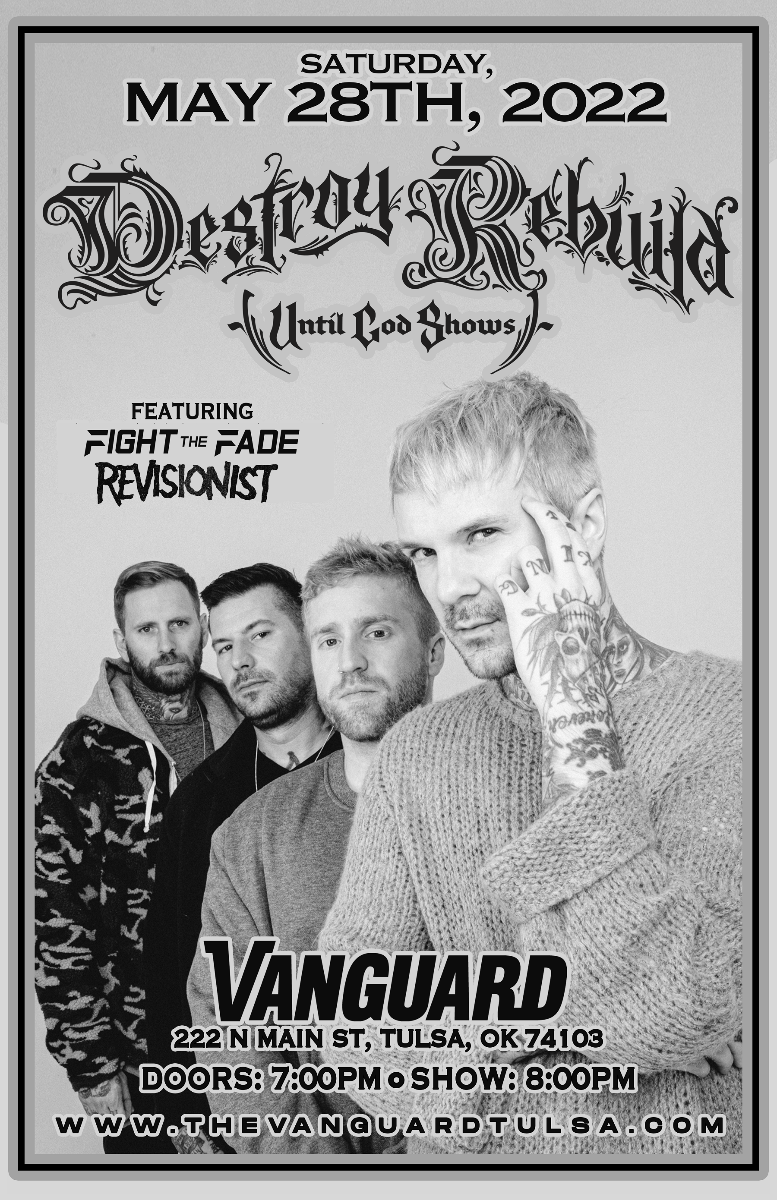 Artists
Destroy Rebuild Until God Shows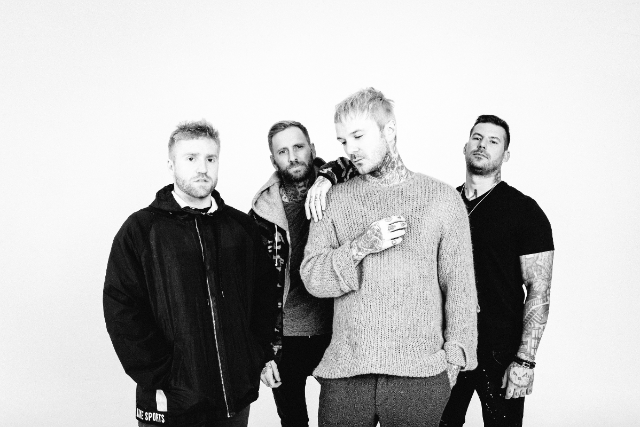 Post-hardcore Destroy Rebuild Until God Shows (D.R.U.G.S.) is back with a new full-length album, 'DESTROY REBUILD,' their first release since 2011's acclaimed self-titled debut album. Craig Owens is once again at the project's helm and has again orchestrated a band and record that is sure not just to catch your attention but also keep it. The new release, 'DESTROY REBUILD,' offers listeners the uniquely nostalgic D.R.U.G.S. sound they have been craving while also exploring new territories making 'DESTROY REBUILD' the perfect progression and exciting new chapter.

When Owens got to writing, he described Destroy Rebuild Until God Shows's signature sound as "fast, to the point, syncopated rhythms with a melody on top." The aggressive melodies are paired with low-tuned guitars and introspective lyrics to create the nostalgic alternative rock sound that we all grew up with and have come to crave. To capture this sound, Owens connected with A-List producer Howard Benson whose past work with My Chemical Romance and The All American Rejects heavily influenced the modern alternative rock world. Benson's raw talent for recording helped shape the structures and harmonies of the album. Owens found this collaborative process cathartic and embraced his newfound flow of creativity.

Owens' knack for creating sincere lyrics shines through while touching on topics like destiny, perspective, and redemption on 'DESTROY REBUILD.' It is a physical manifestation of the course he has taken in his musical career and encapsulates each step along the way. "Everything that we are today is because of yesterday, and this depicts where I have been, but also where I'm going." It is a bright reflection of one's life and actions, and it encourages the listener to do the same in their own life.

"DESTINY," the first single off of the record, is a solid bridge between the first D.R.U.G.S. self-titled record and 'DESTROY REBUILD.' Is it a hard-hitting track that expertly blends the nostalgic alternative rock sound with enough modernity that's sure to appeal to many different listeners. Another track off the album, "The Arm," is a collection of melodies, lyrics, and hooks eloquently constructed together. It is known as the "anomaly" of the album due to its organic nature of origin and leans toward the band's future.

'DESTROY REBUILD' is an exciting new beginning for Owens. It is a way for him to connect with fans to share life experiences, and he is hoping the album will help them cope with whatever they are dealing with and experiencing. "This album is my first step forward without thinking of running back," Owens stated. "I hope it can leave a mark and grow with people."
Fight The Fade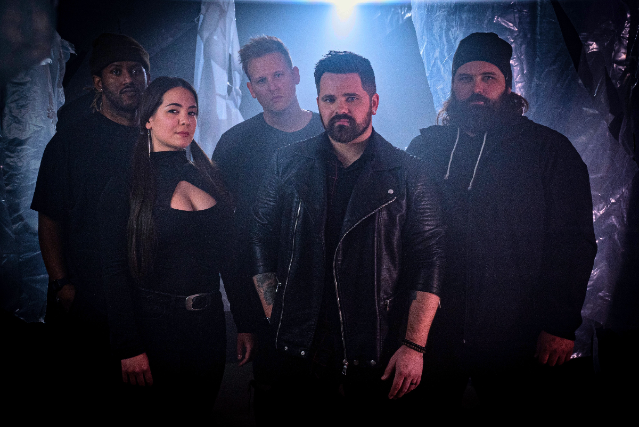 Fight The Fade is a five-piece rock outfit hailing from the Midwest. Consisting of vocalist Zene Smith, guitarist Tyler Simpson, Bryan Conway, bassist Trevor Taylor, and drummer Alyssa Worth, Fight The Fade have become the paradigm of success in their genre. Since they began their journey in 2010, Fight The Fade has toured extensively, while successfully releasing two EPs What We Know (2012) and Masks (2010), and three full-length records, Second Horizon (2014), Fight The fade (2016), and recent 2020 release "in Love. in Hope. in Peace." With each release experience, Fight The Fade have consistently bought straight-forward lyricism, intertwined with gorgeous melodic vocal cadence, light symphonic elements, and electronics together with kinetic percussion and paramount guitar riffs. While their success has shown independently, Fight The Fade then was signed to FiXT in 2021, where their success only continues to grow and soar.
Revisionist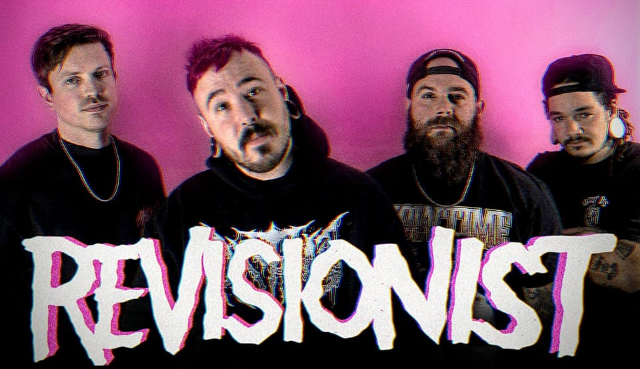 Founded in 2016, Wichita Ks band Revisionist formed with the simple intent to do one thing.

To write an unrelentingly honest record, devoid of any gimmicks so widely portrayed in today's heavy music landscape.

Featuring former members of Bermuda (Mediaskare), The Gentleman Homicide (Blood And Ink), Take It Back (Facedown), and Signs of Hope (Stillborn), the members had amassed well over a decade of cumulative touring experience prior to setting forth the goal to take hardcore back to a more simple and pure time when the message presented was as or more important than any other aspect.

With an unparalleled DIY ethos, the band brought tracking duties in-house at Golden Anvil Recordings in their adopted home of Wichita, and teamed up with good friend and colleague Jeff Sahyoun of Letlive for production, mixing and mastering duties.

The product brought forth is nothing short of an eleven track exorcism of all of the collective hardships that life has brought to the tribe that comprises both its membership and extended family, aptly entitled "CULLING".

Harkening back to the chaos driven sounds of the early 2000's era hardcore and metal, Revisionist pulls not a single punch in their current goal of looking into the current scene, grasping a firm hold on every onlooker with the message

There are survivors, We are not alone.