The Vanguard and Bros Houligan Present...
AJJ
with Open Mike Eagle
Sat
Jul, 2
8:00 pm
( Doors:

7:00 pm

)
The Vanguard
All Ages
Additional Info
The artist is highly encouraging all attendees to wear masks during this event.
Artists
AJJ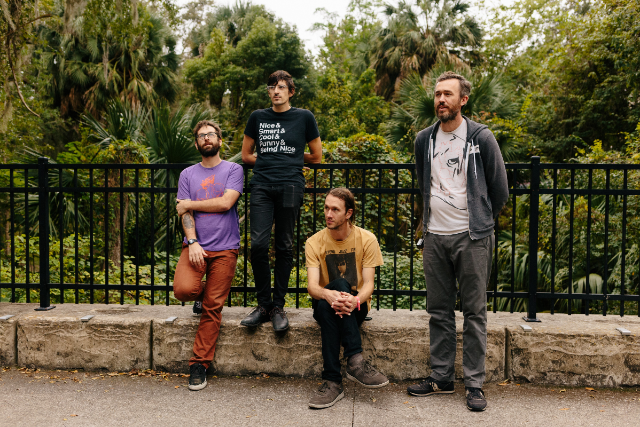 AJJ – Good Luck Everybody
AJJ frontman Sean Bonnette can summarize the band's new album, Good Luck Everybody, in a single sentence: "Sonically, it's our least punk record, and lyrically, it's our most punk record."
And indeed, Good Luck Everybody (January 17, 2020), the Arizona band's seventh album, stands out in their already diverse catalog. While still rooted in the folk-punk sound AJJ has become known for, the album is unafraid to delve into new territories that test the limits of what the band is capable of.
"I think it explores some of the weirder sides of AJJ, the more experimental leanings that we've had in the past," says bassist Ben Gallaty. Good Luck Everybody draws from a wealth of sonic inspirations, from Laurel Canyon folk-rock of the 60s and 70s to avant garde artists like Suicide, as well as some orchestral pop. There is even a piano ballad, the tragic "No Justice, No Peace, No Hope."
Lyrically, Good Luck Everybody is a change of pace from the idiosyncratic songwriting style Bonnette has honed over more than 15 years fronting AJJ. It still features his wonderfully weird turns of phrase and oddball word pairings, but this time, his thematic lens is more directly focused on the inescapable atrocities of the world around him. Longtime fans will recognize the album's social commentary as a return to their 2011 release, Knife Man, but this time it's fueled by a more radical urgency.
"I usually try for a timeless effect in songwriting, so that you can hear a song and generally not think about the context under which it was written," says Bonnette. "But for this one, I was trying to write, and all the bad political shit just kept invading my brain and preventing me from writing that way. So I decided to fully embrace it and exorcise that demon."
Much like Woody Guthrie and Phil Ochs pulled their songs straight from newspaper headlines, Good Luck Everybody feels like a long scroll through social media feeds on a particularly volatile day.
The song "Mega Guillotine 2020," for example, came directly from Twitter. It was influenced by Twitter funnyperson @leyawn's popular tweet depicting a mockup of a French Revolution-style guillotine with one blade and enough headrests for 15 Congress members. Bonnette says the idea inspired him to press record and start playing, and when he did, the entire song came out of his brain fully formed. The final version also features backing vocals by Kimya Dawson.
"There's something that comes along with scrolling through your phone on Twitter or Instagram and seeing a puppy, and then a joke from a comedian, and then a young black person being shot by police, and then another puppy, and then your friends announcing a tour, and then children in cages," says Bonnette. "There's something in that that fucks your brain up. I don't know if it's made me more of a passionate arguer or just made me confused and numb."
On "Normalization Blues," Bonnette laments what this never ending deluge of atrocities has done to our humanity: "I can feel my brain a'changin', acclimating to the madness / I can feel my outrage shift into a dull, despondent sadness / I can feel a crust growing over my eyes like a falcon hood / I've got the normalization blues, this isn't normal, this isn't good."
Later, on "Psychic Warfare," Bonnette takes out some aggression on the man at the root of it all, albeit through his trademark polite aggression: "For all the pussies you grab and the children you lock up in prison, for all the rights you roll back and your constant stream of racism / For all the poison you drip in my ear, for all your ugly American fear, I wrote you this beautiful song called 'Psychic Warfare.'"
After years of partnering with Asian Man Records and SideOneDummy Records, AJJ is releasing Good Luck Everybody on their own, via their new label AJJ unlimited LTD, with Specialist Subject Records handling the European release. Bonnette and Gallaty also produced the record themselves and, in addition to their usual cast of collaborators (Preston Bryant, Dylan Cook, Mark Glick, Owen Evans), it features guest appearances from Thor Harris, Jeff Rosenstock, and Laura Stevenson.
"One thing that makes me rather giddy is that without a label or a producer, our listeners will have no one to blame besides us for the way our sound has changed," laughs Bonnette.
For all of its dark leanings and its pessimistic reflections on modern culture, AJJ hopes that fans will ultimately come out of the album in a hopeful place. By its final track, "A Big Day for Grimley," it feels like AJJ is holding the listener's hand, staring at the looming apocalypse ahead, and whispering a message into their ear: Good luck, everybody.
Open Mike Eagle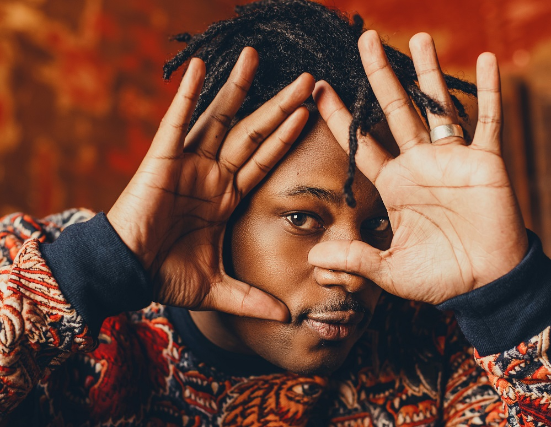 Humor can conceal and alleviate the pain of trauma, but no joke will erase it. Even Wu-Tang Clan told you that tears come after laughter. Relief comes only from opening every emotional and psychological wound.
Open Mike Eagle spent the 2010s finding comedy in rap music and American nightmares. On albums like ​Brick Body Kids Still Daydream ​and ​Dark Comedy​, he delivered hilarious socio-political insights via half-sung verses laid atop progressive production. Acclaim from publications like ​Pitchfork,​ ​Rolling Stone​, and​ NPR​ coincided with headlining solo tours and top-billing at events like Adult Swim Festival. Between studio sessions, Eagle co-founded The New Negroes, a standup-meets-music variety show that explores perceptions of blackness. He and co-founder Baron Vaughn brought the show to Upright Citizens Brigade, Comedy Central, and venues around the U.S. Since founding his record label Auto Reverse Records, though, Eagle has scaled back the jokes. He's finally unpacking his traumas and acknowledging their impact.
With over a dozen solo and collaborative projects to his name, Eagle has spent his career redefining and expanding the parameters of "art rap," the term he coined as a shorthand for leftfield and avant-garde rap music. On ​Dark Comedy,​ which Pitchfork called "one of the most compelling indie-rap listens of [2014]," he chronicled everything from smartphone addiction to the realities of being an indie artist in the streaming era with self-deprecation and side-splitting absurdity. 2017's ​Brick Body Kids Still Daydream​ (Mello Music Group) marked Eagle's shift toward examining trauma. Here he waded through the rubble of Chicago's demolished Robert Taylor Homes, where several family members once lived. Part documentary and part tribute, BBKSD b​ lended powerful fantasy and grim reality. It illustrated the strength and vulnerability of a community afflicted by institutional racism and the enduring pains of life in the projects. There were few jokes but decades of survival.
Anime, Trauma, and Divorce​ is Eagle's first full-length album on Auto Reverse and the most personal project of his career. On the verge of middle age, reeling from the collapse of his marriage, he probes the darkness of his past and searches for lights to guide him forward. This is the sound of a broken man sifting through the pieces while trying to rebuild, the struggle to self-critique while practicing self-care. Do you disassociate by envisioning yourself as the lead in your favorite anime, or do you reflect on your headass behavior? Tattoos and beer or push-ups and smoothies? Executive produced by renowned rock producer Jacknife Lee (U2, R.E.M.), the album's few features include Auto Reverse artist Video Dave and Eagle's son. ​Anime, Trauma, and Divorce​ finds Eagle virtually alone, doing his best to reject the humor that will not cure his ills. All is not well, but he's never been better.