The Vanguard and Bros Houligan Present...
The Goddamn Gallows
with IV and The Strange Band, Piñata Protest
Tue
Apr, 25
7:00 pm
( Doors:

6:00 pm

)
The Vanguard
All Ages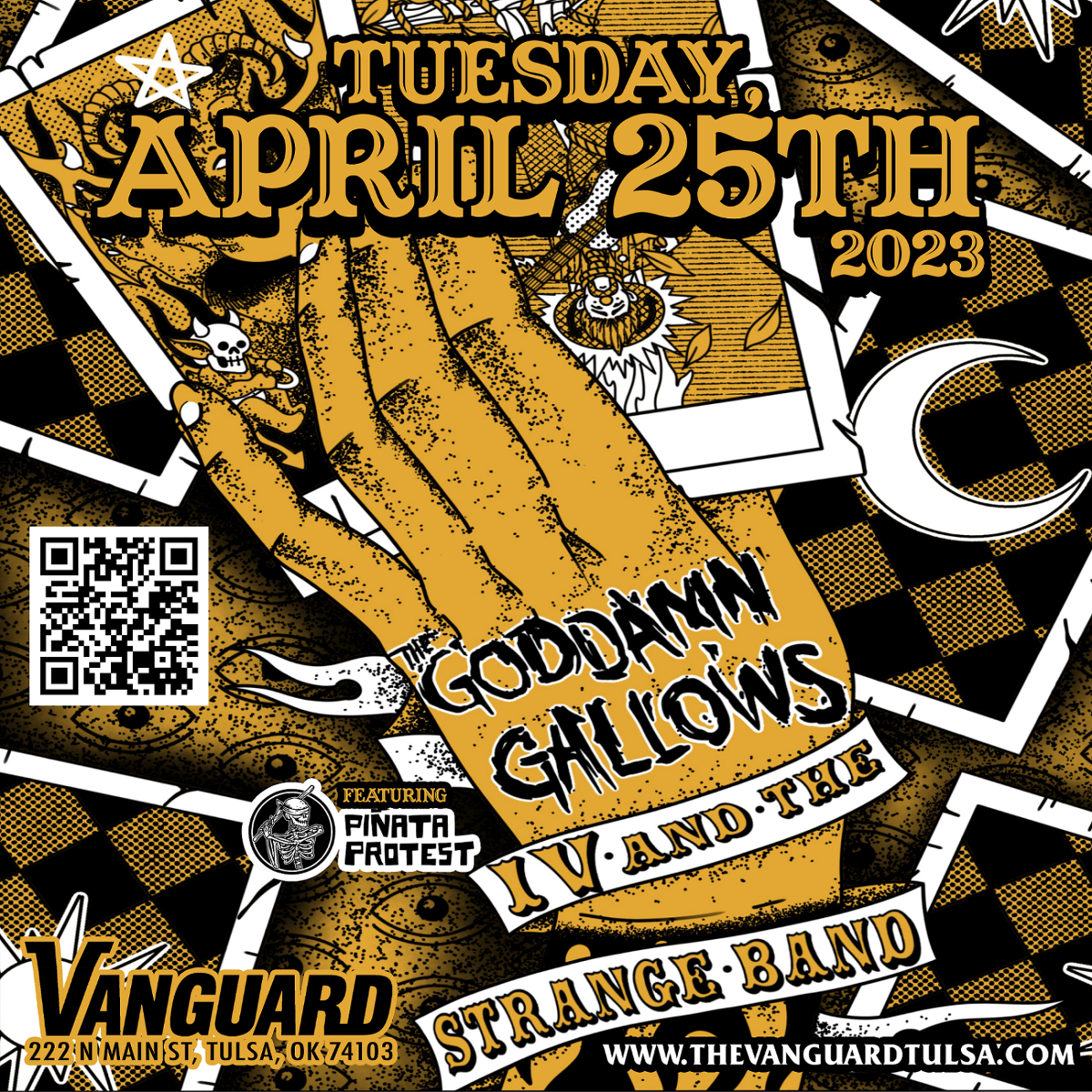 Artists
The Goddamn Gallows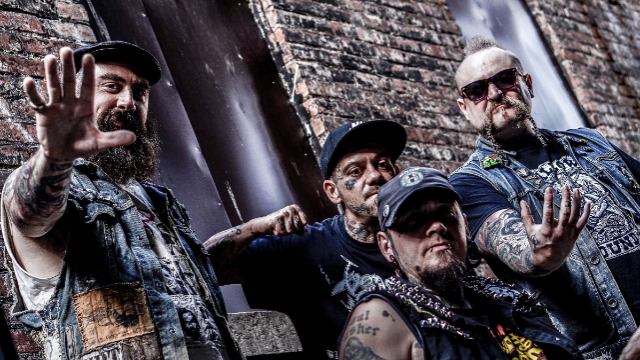 In 2004 The Goddamn Gallows began their rough and tumble voyage
and haven't looked in the review mirror since. Leaving six studio
albums in their path, they have been reinventing their music with
every record. Spit from the heart of America's Rust Belt, arising from a
night of flophouse violence. Drifting across the states, they cemented
their sound in Portland, OR and later in Los Angeles, CA, where they
lived in abandoned buildings, squatter camps, storage units and
shoebox apartments. In 2007, they left everything behind and spent
the next four years living out of whatever vehicle would get them to
the next town. Building upon their original sound of twanged-out,
punk rock "gutterbilly" (Life of Sin 2004 and Gutterbillyblues 2007),
they began picking up stray musicians along the way and adding to
their sound; washboard, accordion, mandolin and banjo (Ghost of th'
Rails 2009 and 7 Devils 2011) creating a sound referred to as
"hobocore", "gypsy-punk" or "americana-punk", while never being
stuck in any one sound. Enter 2018 and The Goddamn Gallows have
reinvented themselves once again with The Trial. From rockabilly,
psychobilly and punk rock, to bluegrass and metal, The Trial infuses
disparate sounds into a new strange recipe of seamless genre bending
profundities. Chock full of impromptu antics of the shocking variety
and hauntingly eclectic instrumentation, The Goddamn Gallows have
made legions of fans with their legendary, live shows. The Goddamn
Gallows, takes their progression of mixing punk rock, bluegrass,
psychobilly, and metal to a whole new level! The Goddamn Gallows
have now partnered with Sailor's Grave Records to help deliver the
next chapter of their legacy to the world. The Trial begins now.
IV and The Strange Band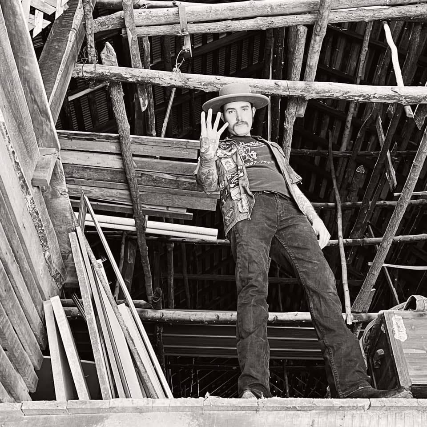 There are family traditions, and then there is the Williams Family Tradition. Beginning with the legendary Hank Williams, then his son, Hank Jr. and grandson, Hank 3, now the fourth generation of Williams (Coleman Williams or IV) is ready to take his place in the music world with his band, IV and the Strange Band.
IV was raised in Nashville in the early 90s before the explosion of what the city is now. The only son of Hank Williams III, IV was raised by his mother until his formative high school years which were spent with his father at Hank3's "haunted ranch" going to punk and house shows and being driven by the heavy tones and sounds of progressive vocal driven music but still retaining a love for the southern country and blues legends. After high school, IV travelled the country which led to meeting more bands and expanding his musical tastes from country bands in Louisiana to doom metal bands in New Jersey.
Although being the first born son of the fourth generation of Williams is his legacy, but fulfilling a musical legacy is never what drove him as a person. After traveling the country, IV returned to Nashville to attend college and study English and literature with dreams of being a writer. After college, IV began teaching but over time he realized he didn't enjoy the education route and got into working in the liquor business instead to make ends meet.
About this time, he became friends with Jason Dietz, a local producer, who became a personal friend and musical ally. Even though IV had been writing songs his entire life and grew up singing, he had never really had a project to express his true voice. Additionally, he had reservations about ever being like the rest of his family wanting to forge his own path. He had even kept his family history as a need to know among friends. He just wanted to be in the backdrop of the music scene to take it all in the right way.
Jason would help to change that as would musician Joe Buck with whom IV has developed his style of guitar playing. This all led to IV meeting the group of musicians he needed for what is now dubbed the "Strange Band". His now lead guitar player David Talley with Jason Dietz on bass would become the core of IV and the Strange Band. Next came Laura Beth Jewell on Fiddle and Tylor Powell on drums to complete the band. Starting from IV's acoustic songs, the band and IV collaborated to create the sound now that has come to define the project: 100 watt amps blended with fiddle, drums, and powerful vocal driven country hooks combining many diverse influences and different musical histories.
Being 29 and starting his music career seems an interesting time, but that exact age is when his great grandfather Hank Sr.'s life ended. IV had a vision and dream that couldn't be obtained in the right way without this journey. Being handed a legacy is one thing to try, but IV is determined to earn it.
The first single, "Son of Sin", is scheduled to be released on 4/20 via bandcamp and other streaming outlets.
Piñata Protest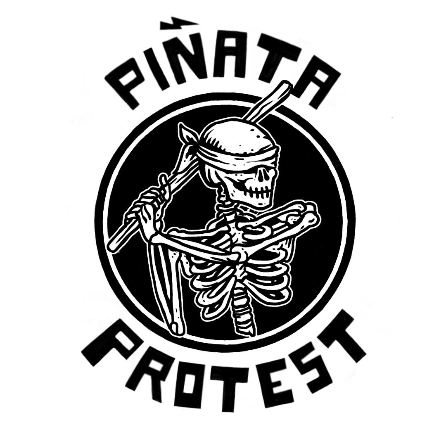 Piñata Protest is an accordion powered Tex-Mex rock band from San Antonio, TX. For over ten years the quartet has maintained a busy schedule of touring throughout the United States, Canada, Europe, and Mexico along side a wide range of bands such as The Reverend Horton Heat, Brujeria, Mariachi El Bronx, Guttermouth, Molotov, The Toadies, Flogging Molly, The Offspring, The Vandals, The Adolescents, The Casualties, Voodoo Glow Skulls, Ramon Ayala, Manic Hispanic, El Gran Silencio, The Blasters, Authority Zero, Ozomatli, Wayne Hancock, and GBH.

Their latest album ''Necio Nights'' expands on their innovative and unique musical adventures effortlessly blending cumbia, huapango, and norteño with rock, punk, ska, and zydeco. The album also features several guest musicians from Brujeria, Voodoo Glow Skulls, Tim Time Bomb, Gogol Bordello, and The Beastie Boys.