The Vanguard and Bros. Houligan Present...
Andy Frasco & The U.N.
with Joe Hertler & The Rainbow Seekers
Wed
Dec, 6
8:00 pm
( Doors:

7:00 pm

)
The Vanguard
All Ages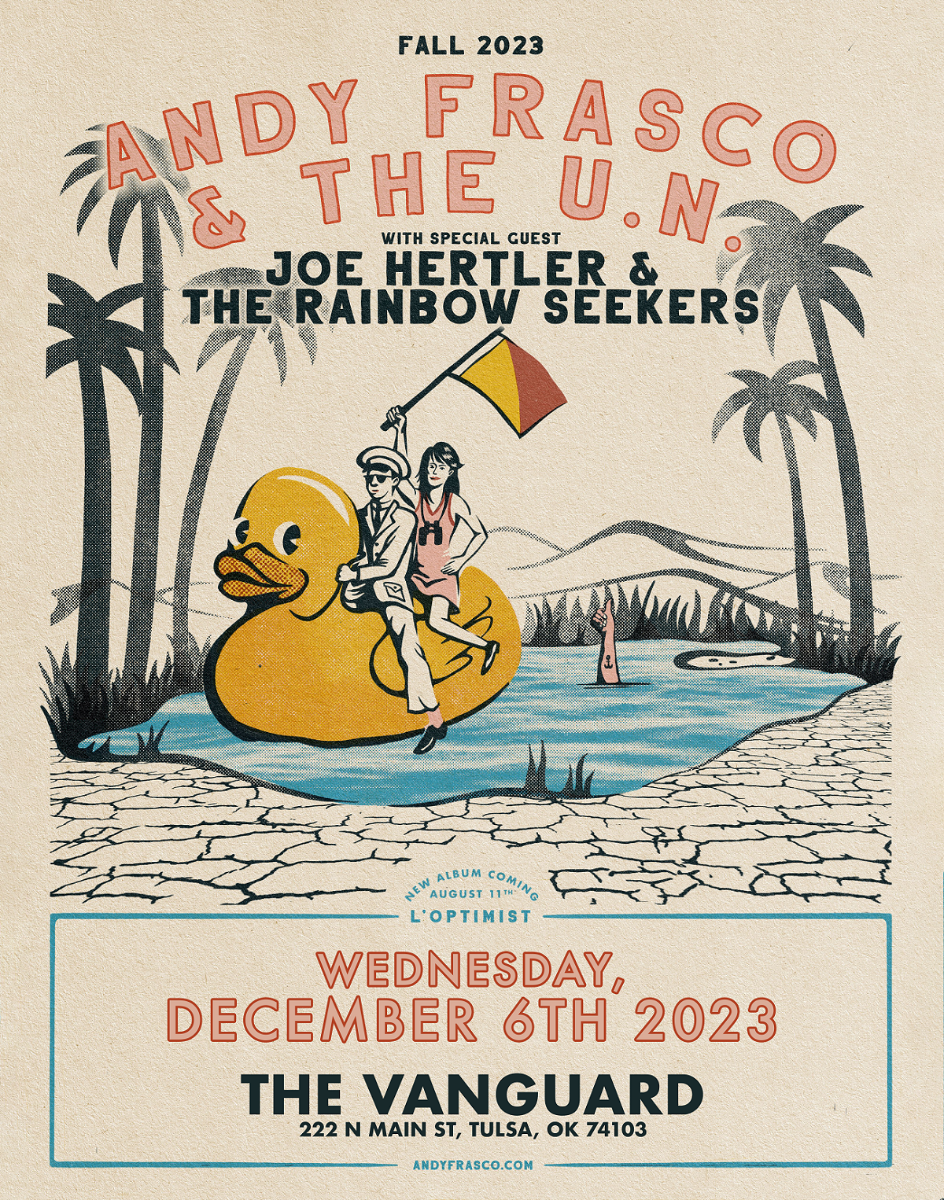 Additional Info
PLEASE NOTE:
No backpacks or other large bags will be permitted at entry. If a bag is necessary, we encourage you to carry something the size of a standard fanny pack or clutch. All bags subject to search at entry.

All patrons will be subject to wanding with a metal detector at entry. No weapons, including folding pocket knives, will be allowed to enter the venue.

No outside drinks or reusable drink containers will be permitted. This includes Camelbak style backpacks.

No smoking allowed inside venue. We have an open re-entry policy, so you will be permitted to go outside if you would like to smoke during the event.
Artists
Andy Frasco & The U.N.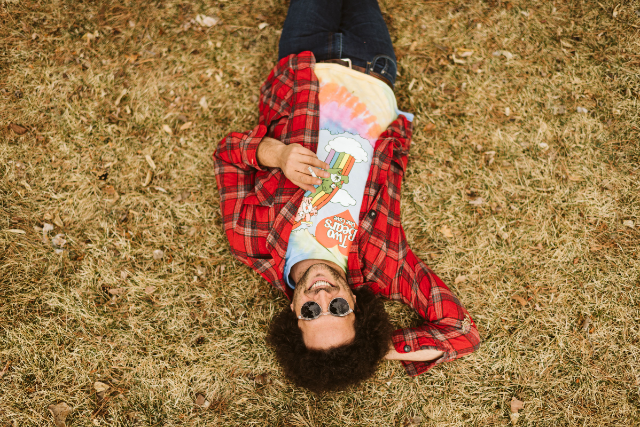 ANDY FRASCO & THE U.N.
L'OPTIMIST

Andy Frasco & The U.N. have long been the high-flying DIY renegades of the touring scene known and loved for their kaleidoscopic musical fusion and one-of-a-kind onstage audacity. Now celebrating their longevity, the band is shaking things up with L'Optimist (Fun Machine Records/Soundly), as its title suggests, Frasco's most hopeful and enthusiastic collection thus far. A testament to Frasco's wide-ranging influences and boundless energy, his band's sixth released studio album sees the magnetic frontman continuing to chart his path of self-exploration and personal discovery through increasingly introspective lyricism and musical adventure. Songs like "Everything Bagel (Feat. Artikal Sound System)" and the deeply moving "Iowa Moon" touch on matters of the heart and mental health, emotional struggle and the sheer vulnerability of the human experience, all relayed through a wildly eclectic approach navigating funk, jazz, surf rock, blues, swing, gospel, reggae, exotica, and more with horn-blasted positivity and soulful power.
"I fight depression every single day," Frasco says, "and the only way to fight depression is through optimism. I try to write optimistic songs because optimism keeps me going. As humans, I don't think we're all that much different. Everyone needs a little optimism to keep going."

Having spent the first part of his career making his bones as a fun-loving frontman with a self-proclaimed "gift of gab," Frasco pushed his songwriting in more personal directions with 2020's Keep On Keepin' On and 2022's Wash, Rinse, Repeat.

"I wanted to write songs that I actually feel," he says, "not just songs that would be fun to play live. I wanted to learn about myself, I wanted to break myself a little bit to approach a different way of songwriting."

Frasco once again challenged himself to explore difficult lyrical terrain, spanning relationships and chronic depression, empathy and alienation, inspired in part by his first real girlfriend. For a brief, shining moment, Frasco was settled romantically, a new development that informed songs like the aforementioned "Iowa Moon," in which the hard-traveling songwriter ponders the possibility of getting off the road to remain at home with his beloved.

"She was the first girl I ever really committed to," Frasco says. "It's like, I don't know what the fuck I'm doing, this is a new world to me, but I know that I love being with you and I love you teaching me how to love. I'm not really a good communicator outside of my art, so I wrote 'Iowa Moon' to say, I know that I'm difficult. I know that I'm on the road all the time. But I love you.

"I've worked in the music industry ever since I was 14," he adds, "booking bands and just following my dream. I left LA in a van, left all my friends, my family, and have been on the road for 16 years. I started thinking, will I just keep drinking in bars and having one-night stands and living the rocker life until I'm 80? It's not a bad life, it just gets lonely out there. So, it's like, I need to have some roots somewhere. I need some weight, some stability. I can't do this forever."

With so much constant activity, Frasco delegated just 30 days to making L'Optimist, traveling to Nashville, Los Angeles, and other cities to work with friends and top songwriters until he had a cache of 10 songs of which he felt truly proud. In summer 2022, Frasco and the core U.N. roster – comprising guitarist Shawn Eckels, saxophonist Ernie Chang, drummer Andee Avila, and bassist/multi-instrumentalist Floyd Kellogg – set to work, taking a sweeping approach towards the recording with production and writing contributions from friends and studio collaborators including Kellogg, Kenny Carkeet (AWOLNATION, Anti-Flag), Chris Gelbuda (Robert Randolph Feat. Darius Rucker, Meghan Trainor), Cason Cooley (Needtobreathe, Ingrid Michaelson), Paul McDonald (Grand Magnolias, Vince Herman), and Harlem-based singer-songwriter Caleb Hawley, along with guest appearances by alternative hip-hop duo Little Stranger and the Southern Florida-based reggae collective Artikal Sound System.

"I like moving around," Frasco says, "finding different inspiration. I can't just sit in the same room for a month and have an existential crisis with my guitar player about a guitar tone or something. I've got to keep it poppin'."

Restless though it may be, L'Optimist sees Frasco fully in command of his craft, more comfortable and confident than ever before, his notorious party-animal persona giving way to a wiser, but no less enthusiastic, artist and band leader. Songs such as "Oh What a Life (Feat. Little Stranger)" and the ebullient "You Do You" are direct and honest, avowing to drown out negativity by staying true to his core beliefs and not conforming to the wishes, needs, and demands of others.

"'You Do You' is basically a call to arms to myself," Frasco says. "Like, what is success? We built success through being outlaws and being ourselves. I did it my own way and it worked out for the best, I think. Could we have been way more successful if I just conformed? Maybe, but that's boring. It sounds like cheating in a race and I'm not trying to cheat. I want to do it my way. Hopefully I'll look back when I'm 80 and realize that, like Frank Sinatra, I did it my way."

Empowering and energizing from its very start, Frasco's dopamine-raising approach that has made Andy Frasco & The U.N. a much beloved live outfit renowned for unbridled improvisation, audience interaction, surprising covers, special guests, and animated antics unlike any other. The band has long spent seemingly all their time on the road, performing more than 200 shows each year, as Atwood Magazine wrote, "spreading their bohemian philosophy of finding joy from existing in the moment." Truly a creative force not to be reckoned with, Frasco also somehow finds time to host Andy Frasco's World Saving Podcast and cater to his nearly 1M monthly dance party views on Twitch.

"With so much bad news in the world, why not try to figure out a way to get out of the darkness," Frasco says. "We're not going to be able to change the world, but at least we can change the mind state we have moving forward. We can at least help the process along by being optimistic that the future will turn itself around. And if everyone changes their mind state about the future, then maybe we can change the world."

L'Optimist sees Frasco continuing to develop as a songwriter, band leader, and human being, his restless spirit giving way to something more firmly grounded yet no less adventurous. Having built a still-expanding career on forward motion, Andy Frasco remains positive in his determination to keep on keeping on, pushing himself and his music to grow and improve with every passing day.

"My superhero, Kobe Bryant, used to say don't be bitter, be better," says Andy Frasco. "So, I've always tried to be better every year. I'm not trying to stay still, I want to get better at everything in life. I'm not just plateauing. I'm going to keep fighting to be the best songwriter I can be. Because if you're not evolving, you're dying."
Joe Hertler & The Rainbow Seekers
Joe Hertler & The Rainbow Seekers will make a sprightly young groove doctor out of anyone. With spectacular energy pulsating from every member of the band, the Rainbow Seekers could illuminate the very chambers of Heaven. Lead singer Joe Hertler splashes through lyrical puddles of golden rain, leaving his audience wearing flowery crowns and bubbling smiles. A ride on the Rainbow will take you across the mountains of Motown, through the fjords of folk, over the archipelagos of Americana, and-at last-into a funky firth, where only the fiercest of friendships can be found.
The Rainbow Seekers began their historic quest 8 years ago, revolving around the pure, unadulterated songwriting of their fearless leader, Joe Hertler. Ryan Hoger was the first among the Seekers to find this lonely songsmith and recognize the twinkling magic in his beard. The young boy gave up all his earthly possessions (besides his guitar, of course) and became the first disciple of the Rainbow. With this, the core of the Rainbow was thereby established, and it didn't take long for the Rainbow Seekers to continue their expansion. Multi-instrumentalist and notable auxiliary percussion maestro Micah Bracken journeyed from the bowels of Atlantis when he heard tell of the Rainbow, and the earth trembled as saxophonist and all-around badass Aaron Stinson descended from Olympus on a golden rainbow of his own. Then came thunder from the depths of space and as it picked up the bass, a soft exhale escaped the lips of every princess within a hundred moons, "Bambis," they cooed. All the while, on the other ends of the earth, a young boy was hard at work, honing and sharpening his sticks for the day that the Rainbow would come his way, and when it landed at his door, Ryan McMahon climbed aboard.
Since the early days, their quest has brought them across the nation and upon such noble gatherings as Bonnaroo, Electric Forest, and Summer Camp. As you'll know if you've seen the band, seeking the proverbial Rainbow is all about the live performance. "The live show is the purpose of the band. This is why we make music. Playing music is a symbiotic process, the crowd is as much a part of it as the musicians. We give as much energy and love as we can and we can feel that coming from the crowd as well" says Hertler. "We believe that performance is not a High Art operation, and that you should do anything you can to ensure that the crowd is having a good time. From piñatas to confetti, to fog, to flowers, to drum solos, to strobe lights, to Thor, to sword battles-literally anything goes."
If you're still reading this, at least one thing is true: The Rainbow Seekers have been waiting for you. If you'll only let them, they will shake the dust from your wildest expectations. They will roar into your life with rapturous frequencies, exuberant tone, and a joyfulness of purpose that has truly become a rare sight on stage. Join them in their celebration, and they will take you on a never-ending journey to a place you'll never be able to describe in words.