The Vanguard and Bros. Houligan Present...
The Anchor
with A WAR WITHIN, Alterblood, Lights of Alora, Esc Ctrl
Fri
Aug, 30
7:30 pm
( Doors:

7:00 pm

)
The Vanguard
All Ages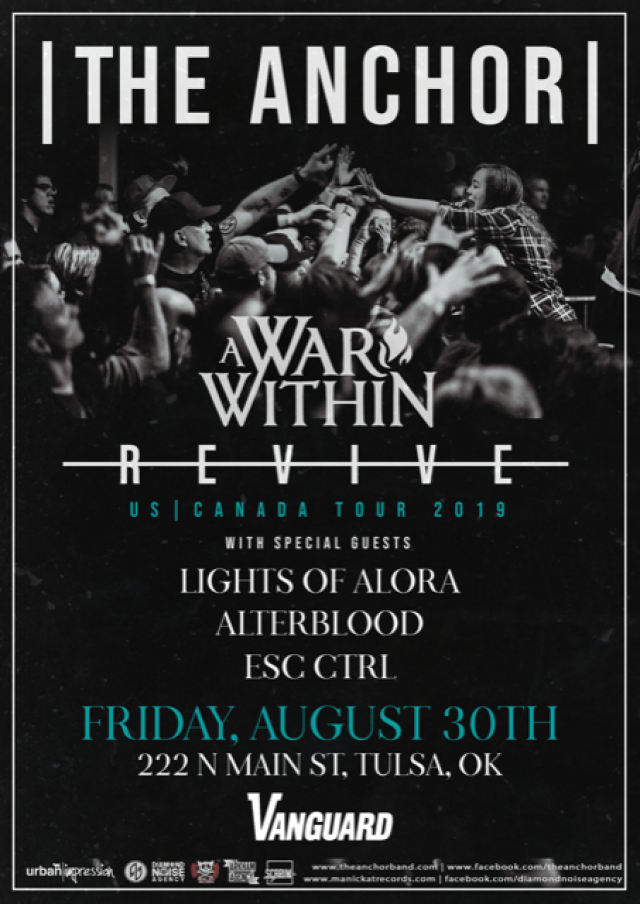 Artists
The Anchor
We write music with the objective of providing an uplifting message, while promoting the value of self worth. Knowing firsthand the refuge that music can offer away from life's struggles, we hope to be a voice of understanding and provide a place that someone can call their home.
This is yours just as much as it is ours.
A WAR WITHIN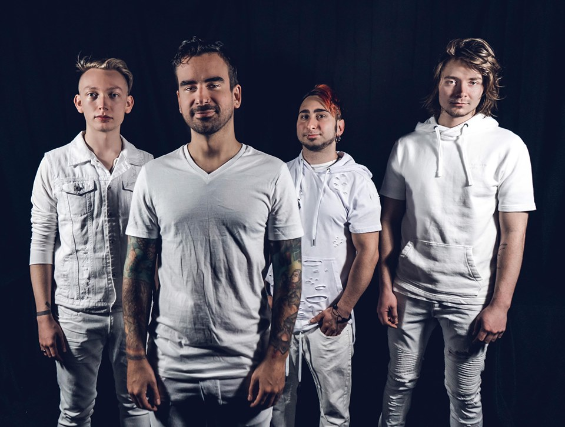 Metalcore from Detroit, MI
Alterblood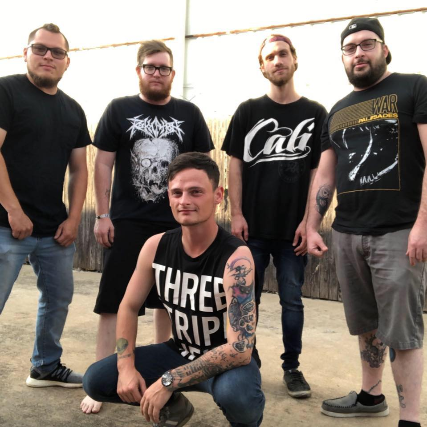 AlterBlood is a heavy metal band originating out of Tulsa, OK. Combined with a new age of metal core and death metal with heavy riffs and screaming solos. AlterBlood gives a powerful message!

Formed in 2016 by Josh Kenny on lead vocals, Cory Gordineer on drums, and Ryan Overack on lead/rhythm guitar. The name of their band goes back over a decade when Josh and Cory first had the idea of forming a heavy metal band.

Originally created just as a side project, Josh and Cory parted ways for a short period of time. Almost 15 years later, the band resurfaced again as Ryan was introduced as the lead guitarist to complete a three piece band. They released a 4 song EP called The Alter Awaits in June 2017. They later teamed up with Alex Farinas on bass guitar, and Cory Webb on drums, formally of Our Winter Year, to change the direction of the band after replacing Cory Gordineer. Towards the end of 2017, Cory Webb resigned from the band and was soon replaced by Jordan Gorath on drums. Josh Kenny decided to remove himself from the band in January of 2018 to pursue more time with his family and was soon replaced by Jake Gregory, formally of Abstract Entity. The band ended up parting ways with Jordan in February 2018 and Cory Webb rejoined the band as their current drummer. Ryan Overack resigned from the band in late October of 2018 and was soon replaced by Braxton Marshall, formerly of Circe's Curse. Josh Stowell joined late November of 2018 on lead guitar, and then Braxton moved to rhythm guitar. Cory Webb in May of 2019 left the band. Lucas Hance in the end of May 2019 later joined the band playing drums.

Now they are one of the fastest growing local metal bands in Tulsa, OK opening up for national bands like OTEP, Doyle, Devil Driver and Gemini Syndrome. They embarked on a mini tour summer of 2017 in support of their first EP release. Their full length studio album Welcome To The Alter was released beginning of 2018. They also played Rocklahoma 2019 on the Darkside stage.
Lights of Alora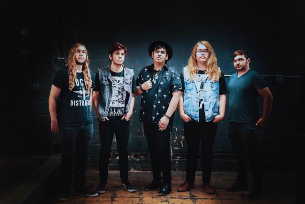 Lights of Alora from Pryor, Oklahoma started in December 2010, actively playing up until 2013 before deciding to go on hiatus. In 2016 after going through hardships and member changes, we regrouped and collected a solid line up which makes up this 5 piece post hardcore outfit we have today.
Drawing influence from bands such as Escape the Fate, A Day to Remember, and Alesana. It shaped Lights of Alora into the aggressive and energetic band we are now. These influences lead up to our first single "Anchors Away" that was released in 2011, and it also signaled the sound that followed the songs for the rest of our EP "Relentless".
With the release of "Relentless" the band gained opportunities to open for such acts as For All Those Sleeping, The Color Morale, Abandon All Ships. and many more, also allowing us to hop on tours with Get Scared. Dr. Acula, & Eyes Set to Kill.
Lights of Alora are currently writing a new EP and its set to release in 2017. The first single "Tell the Wolves I'm Coming Home" is looking to be released early next year.
Esc Ctrl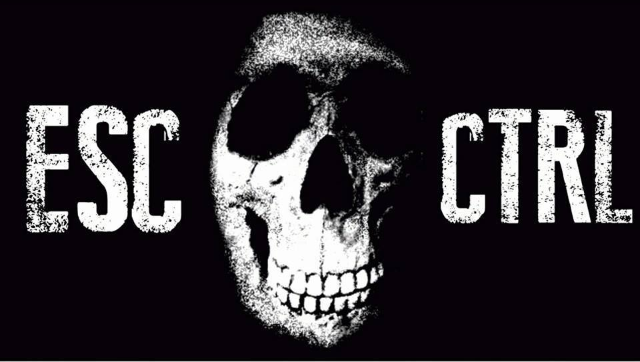 Esc Ctrl is a 3 piece metal band from Muskogee, Ok. With Matt Hunter on Vocals/Bass, Nickolas McAnally on Guitar, and Ray Walsh on drums.