The Vanguard and Bros Houligan Present...
Amigo The Devil
with Tejon Street Corner Thieves, IV and The Strange Band
Mon
Oct, 25
8:00 pm
( Doors:

6:30 pm

)
The Vanguard
All Ages
$20 advance // $25 day of show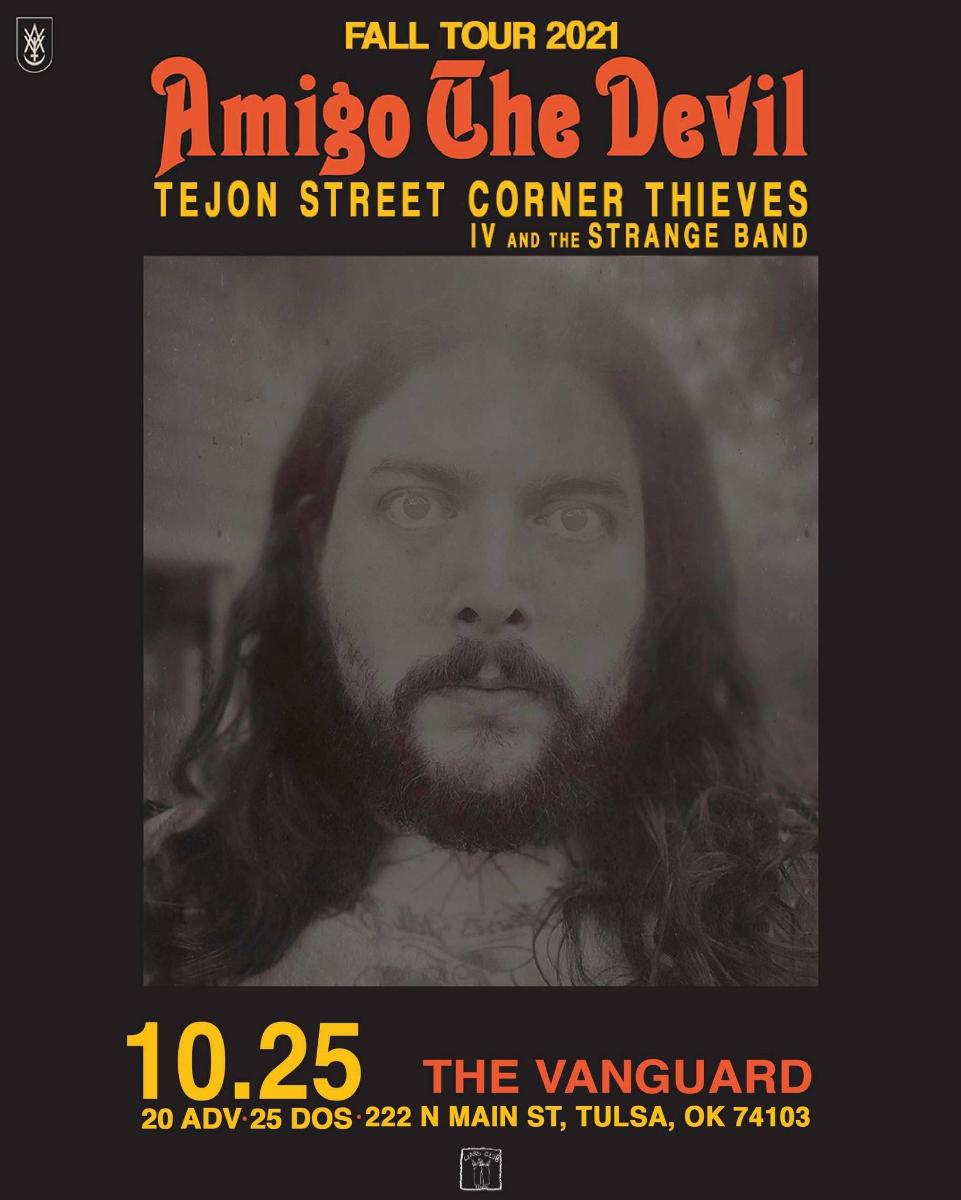 Artists
Amigo The Devil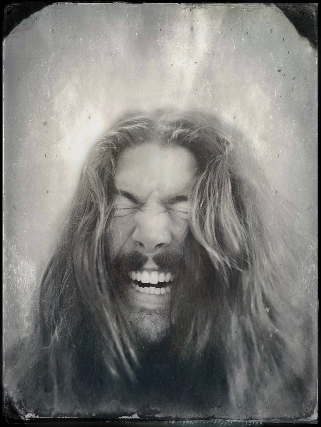 On his new album Born Against, Amigo the Devil – the artistic moniker of Danny Kiranos -- has established himself as a multifaceted artist with a kaleidoscopic vision. The new record follows Kiranos' beloved 2018 debut Everything Is Fine, an album that was chock full of violence, mayhem, and despair -- and one that augmented his long-gestating cult following. Kiranos' new collection of songs reveals him to be more than a one-trick pony stylistically as he opens up the creative channels and delves deeply into thematic and musical influences as august as Tom Waits, Leonard Cohen, and Fiona Apple.
"Every new record is an opportunity to sit and think about how much has changed in your life and the world around you," Kiranos says. "It's a new opportunity to bring in both new and old influences. I really wanted to dive into ideas that I'd either been avoiding or ignoring within myself and figure out ways to align them with music I grew up listening to. Influences that may have been set aside in our older recordings."
Kiranos, who grew up in Miami in a multicultural household but now lives in Austin, decamped to Dallas to record the album at the venerable Modern Electric Studio with Beau Bedford (Texas Gentlemen). This marked the first time Kiranos had explored some of the world music he'd had long loved, including Eastern European folk and Australian country ("It has such an amazing sound to it," he says of the honky-tonk of Down Under. "The rhythms are so dry and brutal.") Kiranos felt Bedford was the only producer who could draw those sounds out of him. Together they entered the studio with merely the skeletons of the songs Kiranos had written. One by one, they fleshed them out in wildly inventive fashion. To say they threw the kitchen sink at this album would be an understatement; these guys threw the whole damn shack. From plucking the strings on the back of the piano to dropping heavy objects on the floor to create odd-sounding crashes, clicks and clacks, Kiranos doesn't deny there was a bit of Rain Dogs-era Tom Waits worship involved.
As for the songs themselves, Born Against finds Amigo the Devil embracing a more widescreen narrative form in his writing, moving slightly away from the dark-night-of-the-soul diaristic tone of the first album. Whether it's getting revenge on a daughter's murderer, a final love letter from a death-row inmate, or an ode to one's own flaws and mortality, the songs on Born Against pack an emotional wallop and manage to accord dignity to the darker aspects of humanity some of us would rather turn our eyes from. But at the end of the day, Kiranos understands that's it's stories – even the darkest of ones – that connect us through it all. And he's worked hard to get better at telling those stories.
"It's been a goal to become more efficient writing songs," Kiranos says, adding that "this was a very conscious attempt to promote imagery over sentiment."
Once Covid began to take root, Kiranos says the pangs of cabin fever set in. His entire professional life over the last decade has revolved around touring, and he was feeling boxed in. He was suffering creatively and having trouble tapping into the old wellsprings that had previously birthed songs. Writing in the third person allowed him to immerse himself in other characters' stories, which he presents on the record in first-person for more immediate effect. These are vivid, sepia-toned snapshots of lives on the brink. Mini-movies, if you will. And they have a horrifying familiarity in the year that was 2020.
"There was a girl at the bar/ She overdosed in a photo booth/ Nobody found her body until last call/ The pictures all showed her terrified and a loner/ while everyone cried what a great friend she was," Kiranos sings on "Quiet As A Rat."
The new writing approach proved to be fruitful, and one Kiranos hopes his fans will embrace. Since he began touring nearly ten years ago (often playing sets in bathrooms at music festivals), Amigo the Devil has steadily amassed a fanbase whose devotion to his music is unstinting. Kiranos says he knows of 1,200 fans who have Amigo the Devil tattoos. There is also a Facebook group that grew out of his coterie of fans that has now become a sort of community support forum for those suffering from things like mental illness, addiction, and grief. "The energy my fans bring to the shows is incredible, and the fans are what make the shows good. Sometime, I can't even hear myself over the system because [they're singing the lyrics so loud]."
As is the case with any artist who has great success with a certain sound or specific album, making a shift to something new can prove daunting. But it's a step Kiranos feels he has to take as an artist. "I hope this album can start to shift the lyrical expectations and people just don't consider me 'the death guy' and 'the serial killer guy,' and that people can start to see different avenues and opportunities. I hope it opens up the project of Amigo the Devil so that people understand it's not a specific sound-based project, and that we can go in different directions and it's okay."
The artistic strength of Born Against let us know that Kiranos' new direction is more than "okay." It's a major mile-marker for a creative soul whose work will only continue to evolve and grow.
Tejon Street Corner Thieves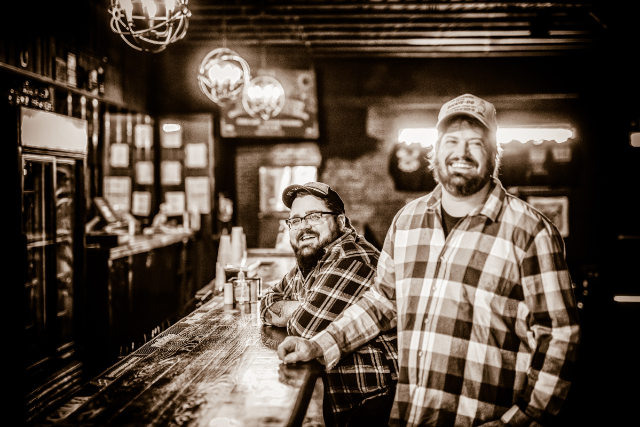 The Tejon Street Corner Thieves hail from the Colorado Rockies and forged their original brand of whiskey roots from the ground up. Honing their craft on the streets, they swiftly gained recognition from the music community with Colorado Springs Gazette awarding the band with their "Best of the Springs" award, the Pikes Peak Art Council hailed the group as "Best In Show" in 2017, and in 2018 the Colorado Springs Independent dubbed them "Best Original Band". As a nationally touring act, the band has become notorious for their shenanigans and over the top live performances. The Tejon Street Corner Thieves consistent show schedule and heart filled showmanship have captured the hearts of fans and created a cult-like following.
Tejon Street Corner Thieves have been turning heads with a completely unique take on traditional folk and bluegrass music. The group made headlines with their viral music video for "Never Meant To Be", which showed the band playfully doing a parody impersonation of key artists in the dark folk and alt-country scenes. The video spawned countless reaction videos from those parodied in the video including Dead South, Shawn James, Days N' Daze, Orville Peck, Bridge City Sinners, Harley Poe, and more.
Tejon Street Corner Thieves recently signed to Liars Club, the label founded by Banjo-attacking murderfolk troubadour Amigo the Devil and indie powerhouse Regime Music Group.
Amigo the Devil said, "It's a very rare and fortunate opportunity to find a band that is as much of a powerhouse in a live setting as they are while listening at home, alone, dancing, and shouting out the completely un-avoidable and wildly infectious sing-alongs. I knew from the moment we played a show with Tejon for the first time that it was something special and it's an honor to have them as the first addition to the family we're expanding into. This group, this label, this whatever you want to call it is a goal I've had to build something in unity where we all feel confident and comfortable to be ourselves and know that we aren't at all alone in our strangeness. There's no one more fitting than Tejon Street Corner Thieves to be a part of it and we're grateful they're on board. They're just such good dudes too, it's unreal haha."
----------------------------------------------------------------------------------------------------------------
Colorado Springs outlaw alt-folk group, Tejon Street Corner Thieves, have announced the details for their new album Stolen Goods. The 10-track was recorded at Royal Recordings in Colorado Springs with producer Bill Douglass, and pays homage to the classic traditional Americana, folk, and bluegrass songs that helped redefine genres; and lay the groundwork for what would become the roots of modern folk.
"This release is a collection of songs that are staples in our band's history. Even before we were a band, I was traveling the country and playing music and busking. I picked up a ton of traditional and old-time tunes along the way,' said Connor O'Neal from Tejon Street Corner Thieves. "I really got into artists like Pink Anderson and jug bands like the Mississippi Sheiks and took a ton of inspiration from them. These were the songs we played when the band first formed. Before we even started writing our own songs, these were the ones we'd play when we busked. And we've kept them around ever since. We love sneaking them into our sets to keep that old spirit alive."
Shawn D'Amario adds, "The title 'Stolen Goods' was an easy choice for this album because we can't take any credit for writing these. They are American traditional songs. They shaped music as we know it today. The rag songs turned into jazz, the blues songs turned into rock n roll. Like many before us, we stole them. And songs with that much history tend to be good ones!"
Traditional music has produced some timeless classic songs that have influenced countless generations of songwriters. These classic Traditional songs have been passed down for generations and the roots can be traced back to as early as the mid-1800s, making them some of the most important and essential moments in music history. Tejon Street Corner Thieves have re-recorded these timeless classics and re-worked them adding their own unique trash grass twist to make them their own.
When it came time to assemble the visual album artwork, Tejon Street Corner Thieves were blessed with an original illustration by artist Jim Evans, also known as TAZ the "Rock Poster God". TAZ has illustrated and designed some of the most iconic rock posters for everyone from Neil Young, the Ramones, Smashing Pumpkins, Pixies and more.
Tejon Street Corner Thieves "Stolen Goods" is now available for pre-order at http://store.liarsclubrecords.com/ in CD and limited edition vinyl. The vinyl is a special edition that will include the new Tejon Street Corner Thieves board game "Larry", where fans play and party as their favorite band member of the band warping through the chaotic world of life on the road. The pre-order also offers a deluxe bundle that includes a limited edition print of the album art from Jim "TAZ" Evans".
With musicians directly suffering a major blow with canceled tours due to the COVID-19 global pandemic, Colorado Springs outlaw blues and trash-grass pioneers Tejon Street Corner Thieves have found a new way to get their music directly to fans via drive-by performances. The band have been using their tour bus and a P.A system to drive through fans neighborhoods to promote their new single "Lay Low". The band has been connecting through performances inside their tour bus while fans take in the music sitting on their porch in an effort to practice safe social distancing. Since the news broke of the band making pitstops through fans' neighborhoods, Tejon Street Corner Thieves has received hundreds of requests via their Facebook page for additional tour stops.
"Our tour was booked and we were excited to go out and play for fans every night on the road. Then the coronavirus spread across the country and every music venue in the country shut down, causing us to cancel the tour," commented Connor O'Neal from Tejon Street Corner Thieves. "We got messages from fans saying how bummed out they were that our show had been canceled. We have a small P.A system inside our tour bus that we use while we're on the road, so we thought it would be fun to drive to a couple of fans' houses and bring the show to them. It just grew from there and we've been able to stay connected with our fans during this pandemic without actually coming into contact with them. We don't want people to come up to the bus or gather together, but they can sit and listen from their front steps. The safety of our fans is important to us, so we've told everyone to keep it limited to the people you live with and we've been only playing two songs to ensure that fans don't gather and potentially spread this virus further."
IV and The Strange Band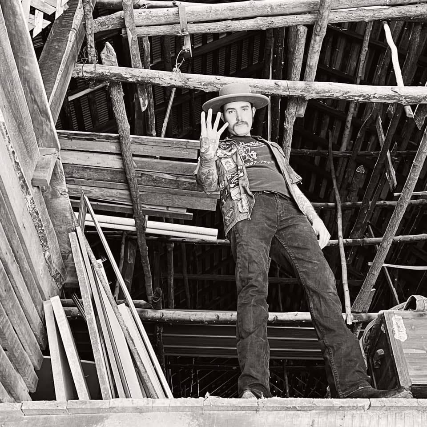 There are family traditions, and then there is the Williams Family Tradition. Beginning with the legendary Hank Williams, then his son, Hank Jr. and grandson, Hank 3, now the fourth generation of Williams (Coleman Williams or IV) is ready to take his place in the music world with his band, IV and the Strange Band.
IV was raised in Nashville in the early 90s before the explosion of what the city is now. The only son of Hank Williams III, IV was raised by his mother until his formative high school years which were spent with his father at Hank3's "haunted ranch" going to punk and house shows and being driven by the heavy tones and sounds of progressive vocal driven music but still retaining a love for the southern country and blues legends. After high school, IV travelled the country which led to meeting more bands and expanding his musical tastes from country bands in Louisiana to doom metal bands in New Jersey.
Although being the first born son of the fourth generation of Williams is his legacy, but fulfilling a musical legacy is never what drove him as a person. After traveling the country, IV returned to Nashville to attend college and study English and literature with dreams of being a writer. After college, IV began teaching but over time he realized he didn't enjoy the education route and got into working in the liquor business instead to make ends meet.
About this time, he became friends with Jason Dietz, a local producer, who became a personal friend and musical ally. Even though IV had been writing songs his entire life and grew up singing, he had never really had a project to express his true voice. Additionally, he had reservations about ever being like the rest of his family wanting to forge his own path. He had even kept his family history as a need to know among friends. He just wanted to be in the backdrop of the music scene to take it all in the right way.
Jason would help to change that as would musician Joe Buck with whom IV has developed his style of guitar playing. This all led to IV meeting the group of musicians he needed for what is now dubbed the "Strange Band". His now lead guitar player David Talley with Jason Dietz on bass would become the core of IV and the Strange Band. Next came Laura Beth Jewell on Fiddle and Tylor Powell on drums to complete the band. Starting from IV's acoustic songs, the band and IV collaborated to create the sound now that has come to define the project: 100 watt amps blended with fiddle, drums, and powerful vocal driven country hooks combining many diverse influences and different musical histories.
Being 29 and starting his music career seems an interesting time, but that exact age is when his great grandfather Hank Sr.'s life ended. IV had a vision and dream that couldn't be obtained in the right way without this journey. Being handed a legacy is one thing to try, but IV is determined to earn it.
The first single, "Son of Sin", is scheduled to be released on 4/20 via bandcamp and other streaming outlets.