The Vanguard and Bros Houligan Present...
When The Clock Strikes
with Outline In Color, Cliffdiver, Rose Gold, Yung Trunkz, Golden Ones, A Mixtape Catastrophe
Sat
Aug, 28
7:00 pm
( Doors:

6:00 pm

)
The Vanguard
All Ages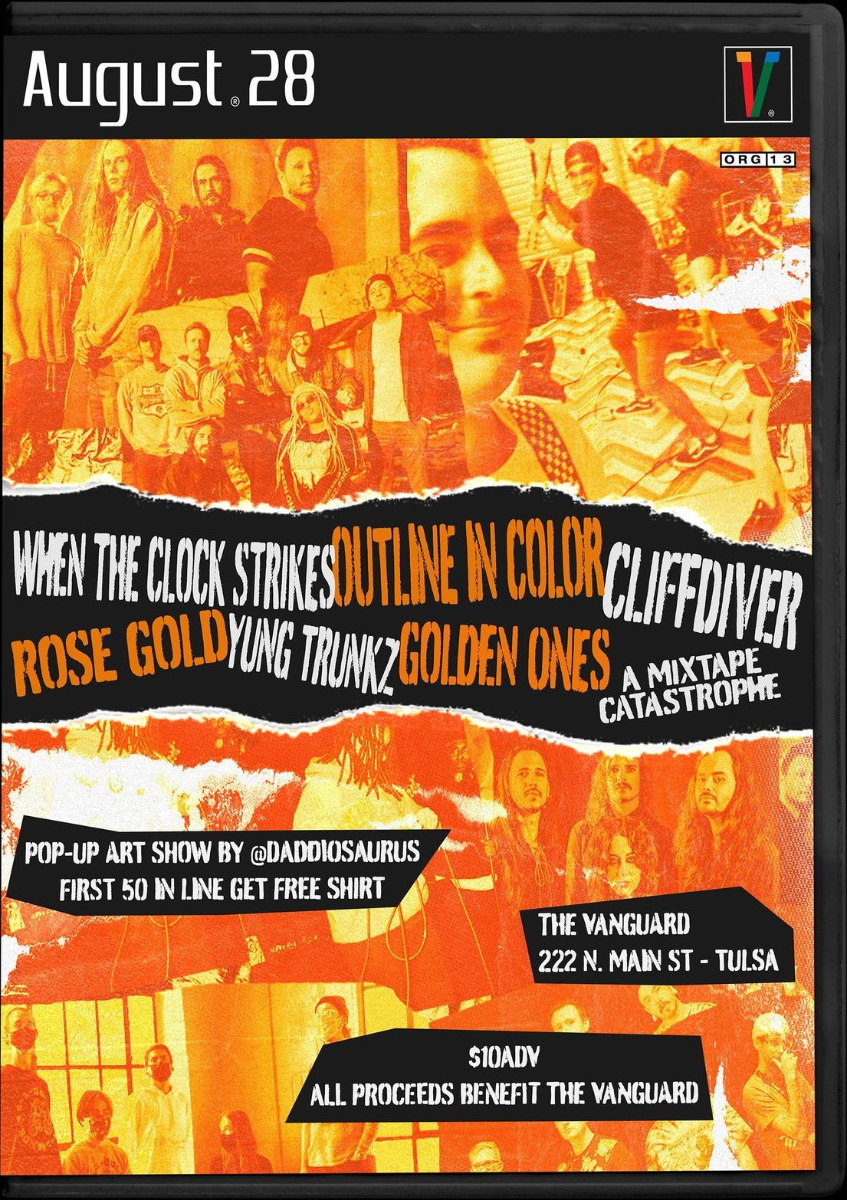 Artists
When The Clock Strikes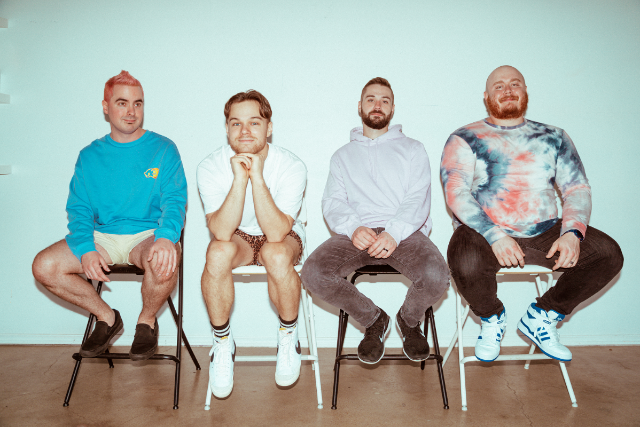 Located at the foothills of the Ozark Mountains and in the heart of the Cherokee Nation, Tahlequah, Oklahoma, is - like any small town in middle America - dominated by country music and Southern Rock fans. Yet since longtime college friends Daniel Basden (lead vocals, bass) and Steven Walker (electric guitar) joined forces in 2014 as When the Clock Strikes, those stereotypes have been blown to bits by their explosive pop-punk energy.
Driven by a powerful aesthetic blending mid-2000s emo/pop-punk and a few decades worth of classic video game scores, the band – which now includes drummer Blake Westerby – has electrified crowds in downtown Tulsa, at the Green Country Roots festival, Elephunk Music Festival and even a local GameStop for midnight release events. They also have performed in neighboring Missouri, Texas, & Arkansas. The band has followed up their 2016 release, The Better Friends EP, with their third EP, Overnight, in 2018.
The critical acclaim for the band, its intense energy, insightful songwriting and dynamic performances has been off the charts since the release of the project. Rick Jamm of Jampsphere Magazine wrote, "The lyrics are intriguing, metaphoric, and at times ironic. The songs are intense, loud and brilliantly arranged, with excellent vocals. If you're looking for an evolution in punk, look no further than When the Clock Strikes." Anthem Review pegs the trio's genre and era-transcending excitement perfectly as it echoes: "(The Better Friends EP) is a five track release that sees the band dragging the mid-90s kicking and screaming into the present. The EP crosses unexpected barriers and fires through eras with absolute ease."
"Lyrically," Daniel says, "I think these songs are about our constant self-discovery and evaluation of the ever-changing relationships with the people in our lives. As time has gone on, the band has obviously become a larger part of our individual identities. Likewise, everyone else has shifts in priorities over time, especially with the onset of adulthood. So sometimes it feels like our 'real friends' that we love and trust are a 'real drag' because they are focusing inward rather than partaking in community. The title track, 'Better Friends' is definitely about the struggle of coexisting with people that we don't easily get along with. And 'Redemption' is a reminder to myself, and hopefully to others, that we all fall short, and perhaps we can empathize with each other because of our brokenness."
The four core tracks of The Better Friends EP are complemented by a unique electronica-driven twist on the title track dubbed the "Lumpy Space Mix." When The Clock Strikes had planned to do an all acoustic version of the song, but when Daniel brought in his MicroKorg synth to the session and started playing the song on it, their producer CJ Cochran built a whole hypnotic landscape around it. "It's a departure from anything else we'd ever done, definitely very adventurous," Daniel says. "It's something different, yet it still fits."
Those kinds of colorful departures are made possible by the trust and chemistry between Daniel, Steven and Blake. "Our friendship is an important element that it goes beyond our work in the band," the singer adds. "I think everyone tries to be a team player. We spend time together outside of band activities when we can. We talk about our daily struggles. It's easier to push each other to do better and work through disagreements because we genuinely care about each other and trust each other."
Outline In Color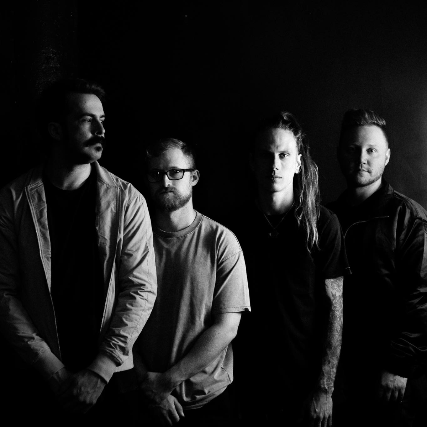 We are a post hardcore band from the USA.
Cliffdiver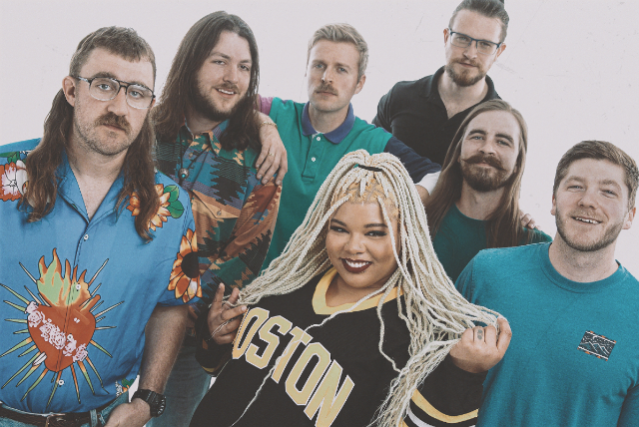 Bursting into the music scene in 2018, CLIFFDIVER consists of six Indie-Rock specialists combining their talents for the greater good. Based out of Tulsa, Oklahoma, each member of the band is a verifiable veteran of their own hometown – and the sum total of their experience quickly added up to a tight & exciting sound in CLIFFDIVER instantly as they started to jam, write, and record songs for their debut.

With stunning versatility in their amped-up sound that vibrantly expands to include Emo, Pop, Rock, Punk, & more – the advantages of having six competent players all holding their own and unified in their vision led the band to the official release of four highly creative & colorful cuts on their Small Hours EP. Immediately catching attention with fans & critics alike, the momentum & support for CLIFFDIVER grew rapidly, with singles "You Sir, Are Obviously Not A Golfer," and "Teaching A Narwhal Empathy" bringing many people in to discover the gripping sounds & incredible new songs that the six-piece band created. Packing the house for the Small Hours EP release party show with a crowd of over three-hundred people gathered in front of the stage at The Vanguard, it was clear that CLIFFDIVER was making music that the people wanted to hear; that their own untamed style & relentlessly energetic melodies, their poetic-edge, raw passion, and their wildest ideas were truly connecting & resonating with everyone listening.

Inspired by the sincere enthusiasm surrounding their music both inside & out of the band, CLIFFDIVER is already hard at work on their follow-up to the Small Hours EP, determined to continue to refine their memorably smooth sound even further and prove they're a genuine sonic force to be reckoned with. Ready to test out a whole set of new tunes from the stage wherever there's enough space to hold'em, CLIFFDIVER is making moves and supplying the grooves as they make their way to the top of the charts. Proudly embracing their highly imaginative & dynamic sound, and diving deep into their pool of talent to create music that makes a bold impact – they write unforgettable songs built to last with bulletproof hooks, amazing instrumentation, & a clear desire to share these moments with each & every one of you.

CLIFFDIVER is comprised of the supreme skills of: Joey Duffy (Vocals), Matt Ehler (Guitar/Vocals), Spencer Swayne (Lead Guitar), Cody Goad (Bass), Dony Nickles (Saxophone), and Eliot Cooper (Drums).
Rose Gold
Yung Trunkz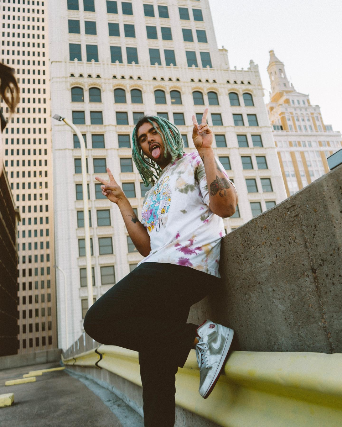 "Yung Trunkz" currently living in Tulsa, OK, is an emerging self titled "Pop Rapper" with a sound mixing from "Wiz Khalifa" ," Lil Uzi Vert" to pop/punk bands like "Blink 182" He brings his own style and lyrics of those as if he lives in his own world. He began his world into music early on but came into hip hop in Late 2016. With the Release of a few soundcloud release's which quickly turned into two mixtapes. With wanting to stay away from the emerging genre "soundcloud rapper" he quickly went to releasing his music on all streaming platforms. With his first big release "Summertime" buzzing around the city to him finally performing music in 2018 with his first performance dressed as "Kel" from "Kenan an Kel" at a friends Halloween party. Which then got him linked to local bar venue with his second performance and has gone on in 2019 to performing a few times a month for the year paying his dues and making his own lane in Tulsa as an artist and a creative.

He also expresses himself as an artist, thru his clothing brand "Hysteria" which he has been working on since 2014 which consist of small run Cut and Sew pieces to full collections with graphics ranging from metal band style fonts to early 2000's childhood shows like that of his gothic rendition of the cartoon from the "Lizzie McGuire" tv show on "Disney Channel" His first notoriety was from the group "Chase Atlantic" where they were seen wearing his clothing during their "Phases" Tour in 2019.
Golden Ones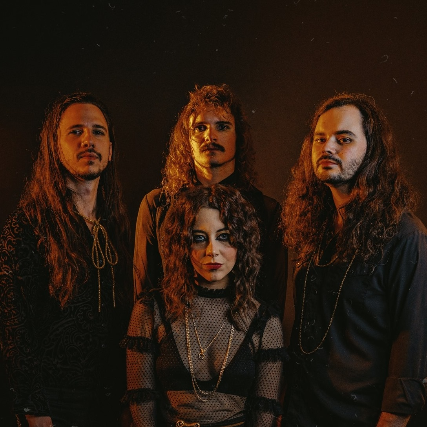 Golden Ones are a high energy rock n' roll band with driving guitars, powerful vocals, stage presence galore, and a glam sensibility. Drawing influence from the sounds & steeze of the great 1970's rockers before them, they bring an intensity to the stage that is second to none. Armed with three songwriters and a nostalgic attitude, Golden Ones take no prisoners.
A Mixtape Catastrophe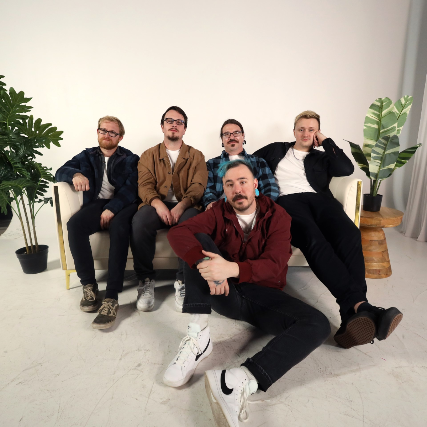 Groove-based Progressive Alternative from Tulsa, OK.