The Vanguard and Bros. Houligan Presents...
Julia Michaels
with Billy Raffoul, Whitney Fenimore
The Vanguard
All Ages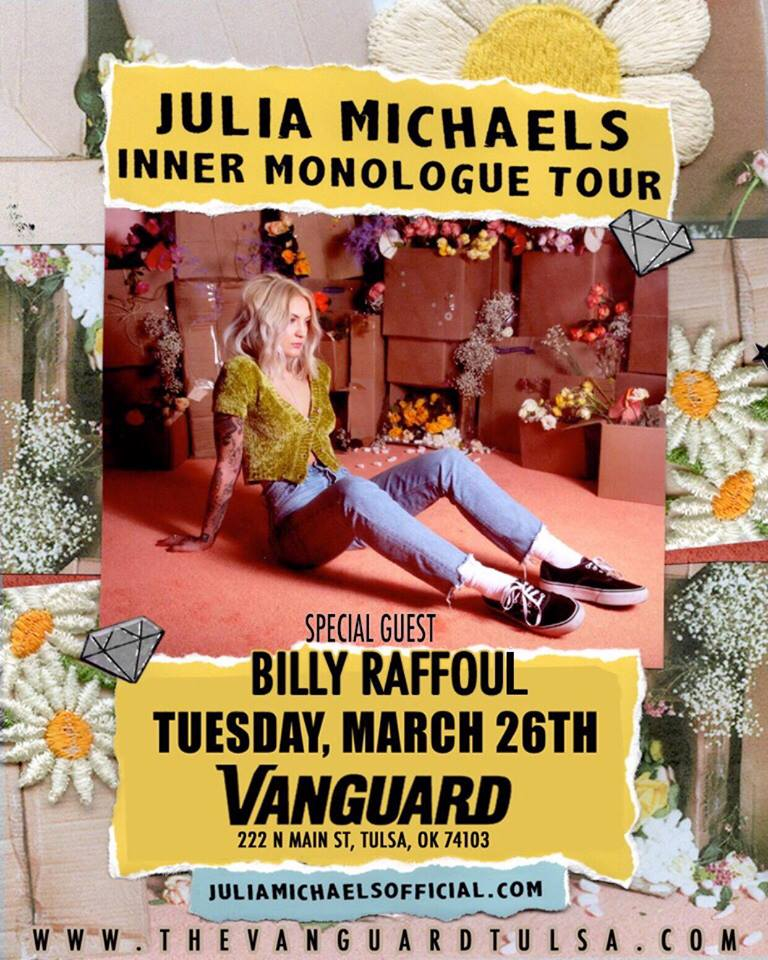 Artists
Julia Michaels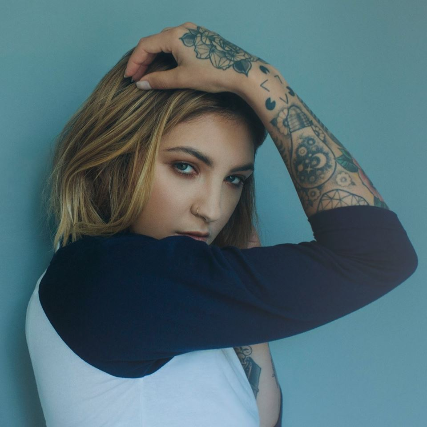 Julia Michaels always speaks directly from the heart.
"I try to put as much of myself as possible into everything I write," she affirms. "It's all me."
Unabashed honesty and warm vulnerability turned the Los Angeles-based singer, songwriter, and performer into 2017's biggest global breakout star. Audiences first properly experienced her unbridled emotional artistry on the 2016 debut single "Issues." Certified RIAA double-platinum stateside, it crossed worldwide consumption of 5 million in less than six months and became "the best-selling song by a new artist released in 2017"—according to Nielsen Music—as well as the "highest on-demand audio streaming song by a new artist released in 2017." That same honesty also defines her very first "mini-album," Nervous System [Republic Records]. With these seven tracks, she fortifies her emotional bond with millions of listeners everywhere.
"A lot of my songs have to do with the nervous system and things that are stimulated by touch and emotion," she explains. "One day, the title just popped into my head. It made sense with how emotional the songs I've written are and who I am. Of course, I personally am a fucking nervous system as well, so there's that," she laughs.
As "Issues" achieved stratospheric success, she quietly assembled what would become the "mini-album," writing and producing alongside frequent collaborators such as Mattman & Robin [Britney Spears, Gwen Stefani, Hailee Steinfeld], Justin Tranter [Justin Bieber, Selena Gomez], and more in L.A. In addition to "Issues," the follow-up single "Uh Huh"—which earned early praise from Time, V Magazine, and many others—paved the way for the release of Nervous System. Slipping from acoustic guitar into a rush of electronic production and a chantable chorus, the track captures a fleeting and fiery moment.
"It's about wanting the person you want to make the move," she explains. "He hasn't yet, so you're like, 'Shit, should I just do it myself?' You don't know how he feels though. It's this weird tension. When that move does happen, it's the most magical and pure feeling in the world. That's something we can all relate to."
Delicate piano and skittering synths entwine with her soulful delivery on "Worst In Me." Originally culled from a voice note on her phone, the song sees Julia open up about a failed relationship.
"I wrote it about my ex-boyfriend," she admits. "It chronicles our downfall and why we couldn't work. Sometimes people are so afraid of something really good that they sabotage the relationship because they think it can't be real. All of these little tiny things manifest into problems. You lose the bigger picture, which is that you love each other and genuinely care."
Elsewhere, off-beat percussion drives "Make It Up To You" where she candidly confesses, "I wish I could be the tender stable girl that you want—but I'm not." Further exploring the dissolution of this pivotal relationship in her life, "Just Do It" discusses what the artist calls, "The moment you're on the verge of a breakup, but just can't end it."
The clever and coy "Pink" showcases another side of Nervous System and Julia. Tempering a rich sonic backdrop with lyrical double entendre, you might find yourself smiling after each verse.
"It's pretty self-explanatory," she grins. "I don't know how to describe it without it sounding extremely sexual!"
Nervous System concludes with "Don't Wanna Think." Performed on piano and written solely by Julia, it stands out as a shining finale, conveying raw and real emotion over each chord between sips of tequila.
"I wrote that one alone," she recalls. "As you can see, my ex and I had a very toxic relationship. I was at the piano drinking tequila at Henson Studios in Hollywood. It's going to sound crazy, but sometimes I feel like I write my future. I write about things as if they're going to happen. When they happen, it's a completely different perspective. What you hear is just me at the piano singing and crying. It's the most special song I've written. I can't wait for everyone to hear it."
Nervous System continues a tradition of honesty that Julia began as one of pop music's most in-demand songwriters. Emerging in 2013, she solidified herself as a prolific force, co-writing a string of Billboard Hot 100 hits alongside Tranter, including smashes like Justin Bieber's "Sorry," Nick Jonas ft. Tove Lo "Close," Selena Gomez's "Good for You" [feat. A$AP Rocky] & "Hands To Myself," Hailee Steinfeld "Love Myself," Britney Spears "Slumber Party," Gwen Stefani "Used To Love You" and, most recently, Selena Gomez's "Bad Liar," Ed Sheeran's "Dive," and John Legend's "Surefire." The cumulative worldwide stream count for songs she has co-written exceeds 10 billion to date.
In the end, Julia will always connect by just being herself. Nervous System is proof.
"I hope people can find a little bit of themselves in the music," she leaves off. "There's nothing fake about this. Every word is part of my life. I hope you can find your own perspective in it."
Billy Raffoul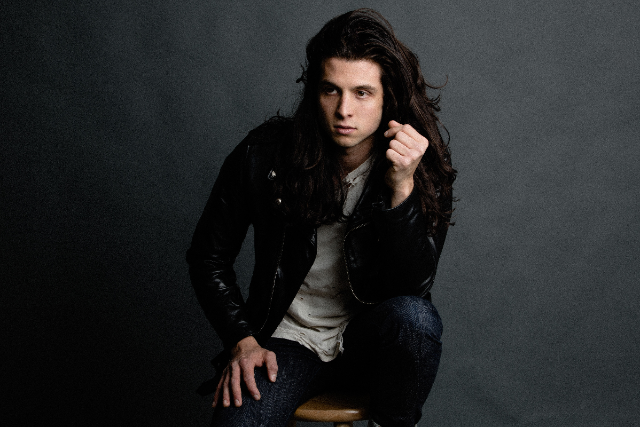 Emerging singer/songwriter Billy Raffoul confirms North American tour dates this spring supporting Parachute. The extensive run of dates brings Raffoul to New York's Gramercy Theatre, Nashville's Cannery Ballroom, D.C.'s 9:30 Club, Boston's Royale as well as two dates at Los Angeles' Troubadour. Raffoul has spent the past few years on the road sharing the stage with Kings of Leon, ZZ Ward, NEEDTOBREATHE, Mondo Cozmo,Judah & The Lion and more. Ticket's on-sale begins on Friday, January 18 and can be purchased at billyraffoul.com. See below for complete tour dates.

Raffoul's debut EP 1975, which was released last year via Interscope Records, continues to receive critical praise. The Observer proclaims, "Falling somewhere in-between Hozier and James Bay is Billy Raffoul. The 22-year-old knows how to balance poetry with an anthemic, hard rock edge. We'll definitely be seeing more of this Nashville by Canada troubadour," while Ones To Watch adds, "Never hiding behind overly-clever production techniques or superfluous furnishings, lyrically or sonically, 1975 paints a brutally honest portrait of Raffoul as a genuine artist."

Raffoul grew up in a creative family in the small farming town of Leamington, Ontario. His mother is an artist, writer and teacher and his father Jody Raffoul is a solo artist and hometown hero who has opened for everyone from Joe Cocker to Bon Jovi. Raffoul's earliest musical influences come from his dad. "The Beatles were like Jesus in our house," he recalls, adding that he also listened to soul singers like Otis Redding and Sam Cooke. On his tenth birthday, Billy received a British Invasion-inspired guitar with a Union Jack on its front from Jody and started teaching himself to play. By 16, he had bought his first real guitar, a 1968 Gibson Les Paul Black Beauty.
Whitney Fenimore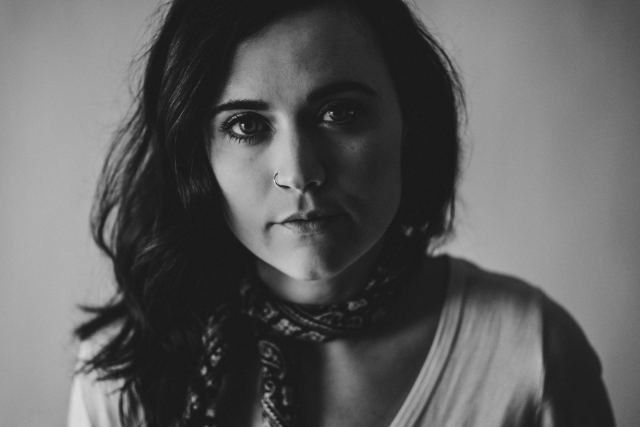 "majestic enough to cause flashbacks to Pink Floyd or Spiritualized w/ haunting pedal steel guitar." – AZ Republic
"Intimate and exuberant...a sonic panorama that seems to stretch all the way to the Heavens." – BlackBook
"she may just win the game...if this is the kind of music she'll be making." – Refinery29
"Impressive range and beautiful tone" – Hollywood Reporter
"powerful, distinct vocals [and] strong melodies" – The Boot
"soulful vocals and honest lyrics" – Alternative Press
"Knockout performance" – Billboard
"Soulful delivery"– Rolling Stone
Whitney Fenimore is a 29 year old singer/songwriter residing in Nashville, TN. Before moving to Nashville, Fenimore lived in Los Angeles as a published songwriter with Sleeping Giant Music Group head up by grammy award winning producer/engineer Ken Caillat (Fleetwood Mac, Colbie Caillat, Lynyrd Skynyrd). Recently Fenimore competed in season 13 of NBC's hit TV show 'The Voice' and landed a spot on Team Adam. Her new EP 'Battle Within' is out NOW!